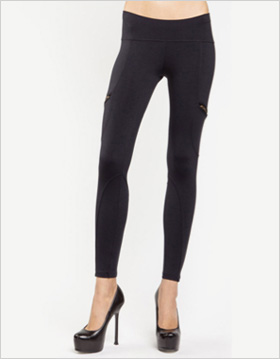 Leggings
I think as moms, we can all agree that comfort is extremely important. This is why I think a great pair of black leggings is a must! Black leggings are incredibly slimming, can easily go from day to night, and are super easy to layer over. I have a few different pairs in various styles and the designer I'm digging for leggings at the moment are DaviDLerner. I think what sets his leggings apart from the rest is the way he adds little pieces of mesh, lace or leather to give them character.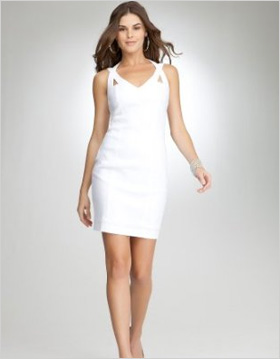 Little white dress
My second must-have wardrobe staple is a "LWD" known to few as the little white dress. I know most people think LBD (little black dress) is the way to go, but I cannot tell you how many white parties I've been invited to this year alone! When you have to buy one on a moment's notice, you tend to have to compromise on your style out of sheer panic to find something quickly. If you see a white dress that you love, but don't need, go ahead and splurge -- it will come in handy when you least expect it.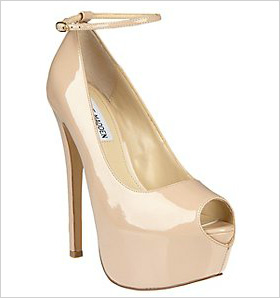 Nude heels
My third wardrobe staple is a nude-colored high heel pump. My friends and I have the YSL platform nude pump on high rotation in our wardrobe. The trick to getting the best pair of nudes for you is to find the right color nearest to your own skin tone. The idea is to not notice the shoe, elongate the leg and take the focus of your outfit away from your shoes. The YSL pumps that I have are a bit pricey (around $795), but Steve Madden (seen above) and Aldo both make great versions that are much more affordable.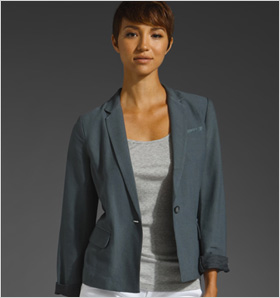 Blazer
My fourth must-have wardrobe staple is a nice blazer. I know this may sound a little boring, but the truth is, it is a must-have wardrobe item. It can instantly take you from day to night or add sophistication to your look. I think this is a big ticket item -- you buy one good one and you're done, so don't skimp. My favorite blazer is a very sexy version that is cut a little higher in the back and has a light shoulder pad for shape, made by the brand Elizabeth & James (better known as Mary-Kate and Ashley Olsen). I love the entire line by these two talented gals!
Lastly, a little bit of a funny side note as I began to write this blog: I asked my almost 9-year-old son what he thought was the most important thing to me in my wardrobe and he without hesitation said "mascara." Hahaha smart boy!
More fashion tips
Brandi Glanville's top tips for date night mommy-style
Brandi Glanville's top swimwear tips and picks
Trendspotting with Jill Laine: Summer scarves