SheKnows Beauty Beat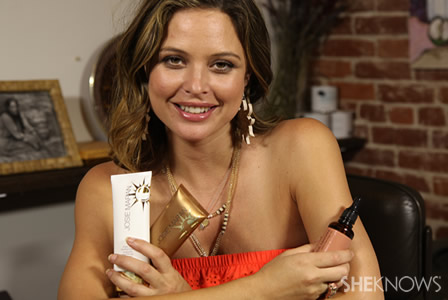 Supermodel turned beauty guru Josie Maran shares her beach beauty routine. From sunscreens to self-tanners, Josie's all-natural argan oil line has everything you need to get that gorgeous summer glow while protecting your skin.
Josie's best tips for beauty at the beach
While Josie walked us through her best tips for beauty at the beach, she was glowing not only with beautiful bronze skin but with motherhood on the horizon. She let us in on her plans for a home birth in Pennsylvania, future family vacations and, of course, how she gets her glow!
Josie's beach plans and home birth
After she gives birth to her second child, a home birth in her new home in Pennsylvania, she hopes to get some beach time!
"I'm a picnic-aholic and beach-aholic," she said.
Majorca, Spain is at the top of her travel list. "It's a very small island with a turquoise ocean."
When you hear of a supermodel coming out with a new skin care line, you probably imagine them showing up for a quick photo op and then hightailing it back to their life of leisure. Josie Maran, though, is not that kind of supermodel.
When we showed up to her office in Los Angeles to talk safe summer skin care, we were pleasantly surprised to see that Josie is the nuts and bolts of this operation, actually creating, testing and personally using all her own products.
When she was expecting her first child, now 5-year-old daughter Rumi Joon, Maran and her husband Ali were concerned with finding natural beauty products that wouldn't harm the baby.
"As a pregnant soon-to-be mom, I couldn't find anything that was safe enough for me and my baby," Josie told SheKnows. "That's why I created the line."
Now with a second child due in just a few weeks, Maran's business is booming and she has a complete line of organic, eco-friendly products at her disposal. And with summer upon us, Josie has the perfect beauty regimen for women everywhere to look sun-kissed without the sun, pregnant or not! Watch for her best summer beauty tips.
Joise's beach beauty routine
Step 1: Exfoliate
"Exfoliation is really great before you moisturize your body or put self-tanner on to smooth out the skin and get rid of dead skin cells. We have an amazing Argan Sugar Bomb. It has sugar granules and the sugar actually helps keep moisture on your skin in."
Step 2: Moisturize
"I love to be moisturized. I use the pure organic Argan Oil on my face and body. It has tons of essential fatty acids and vitamin E. Most people are scared of oils, but really good oils are actually amazing for balancing out your skin and helping to create less oil in your skin."
Step 3: Protect
"You want to protect yourself, but you want to do it with natural sunblocks instead of using chemicals. We have two really great sunblocks: the Argan Daily Moisturizer with SPF 40 and one with SPF 30 for the body. Use them every day, and reapply every few hours."
Step 4: Bronze
"Our Argan Bronzing Oil is a universal shade that works on everybody and has a yummy orange citrus smell. It's a great way to get that beautiful tan without looking orange and feeling fake. I never put glitter in anything; I'll put shimmer with crushed pearl. You can use the Daily Bronzer as well. It's infused with bear berry extract that reverses sun spots while giving you a tan."
Step 5: Spritz
"We have a new product, the Bohemian Waves hair mist. It's like putting salt water in your hair but it's not drying because we use Himalayan sea salt and argan oil. It just gives you this beautiful textured hair."
More from Beauty Beat
How to get Jessica Simpson's Fashion Star makeup
Miranda Kerr and Candice Swanepoel in beach beauty
How to get Nicole Richie's cat eye makeup