I spend my summers chasing four boys around. We're at the park, at the pool, at the beach, at the library, in the backyard, at the ice cream shop, at the amusement park... we're everywhere. Keeping up with these boys keeps me on my toes. There's no such thing as putting my feet up to relax. I'm constantly dressed for on-the-go! And, putting it simply, wearing heels isn't so easy.
In the summer, I'm a flats girl. All. The. Way.
I can thank William (age 7), Alexander (age 6), Benjamin (age 5) and Henry (age 4) for that one.
I know that flats aren't the "sexiest" shoes to wear, but they can be chic and very trendy. I've become a "mom pro" at making sure I'm finding the most fabulous flats to wear in the spring/summer because as much as I want to wear gorgeous high espadrilles, they just don't make sense in my daily mom-life. I need to be ready to make a mad dash after a child in seconds, and I can't do that in 3-inch heels (I reserve my heels for date night with my husband!).
So what kinds of flats are chic and trendy for the summer and fabulous at the moment for moms?
Here are my 5 fave flats right now for moms: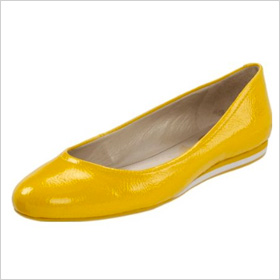 Yellow flats
Bold and beautiful colors are trending right now. I LOVE yellow flats because they grab attention and are true statement pieces. I personally love wearing my yellow flats with green cargo pants and a navy blue tee. It's a simple outfit, but it makes my shoes pop! Not to mention, you're also bringing in the color blocking trend, too with the combination of colors.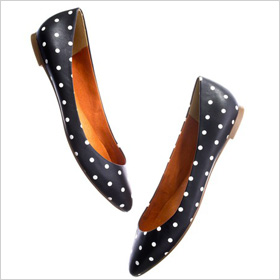 Polka dot flats
Polka dots are such a timeless and classic trend, but this year we're seeing more polka dots than ever before. They're everywhere -- scarves, bathing suits, blouses, hair accessories, etc. I love that polka dots have been brought to shoes, too. Polka Dot flats paired with a basic pair of jean capris and a tank work beautifully!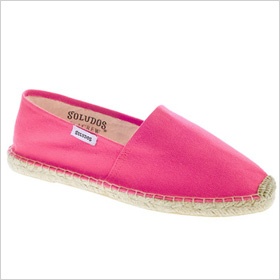 Espadrilles
Just because you don't want to wear 3-inch tall ones doesn't mean you can't wear them. Go with a gorgeous pair of flats! I love the look of espadrilles; they exude summer and vacation and resort wear. I love pairing them with a sundress or maxi dress in the summer. They're so comfy, yet so fabulous! My advice, find a pink pair at J.Crew!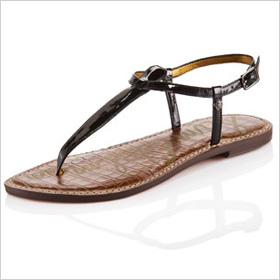 Patent leather thongs
I have to admit, these are my all-time faves this summer. They're a "fancy" way of dressing up a basic thong. I think they are so fashionable and so chic. These can easily be dressed up or dressed down, and I think it's essential for every mom to have these kinds of flats in their summer wardrobes! Plus, they're so shiny!