Yeah bikinis!!! Finally something I believe I am an expert on! OK people, let's just start with my five ultimate rules for rocking a swimsuit and being "haute" poolside.
Rule #1: Tighten things up a bit
First and foremost, guess what? A big bikini bottom only makes your booty look even bigger! Much like with pregnancy clothes, the bigger and looser clothing you wear only makes you look like a house.
If you want to look like you have a tiny bum, then rock a tiny bikini bottom, preferably one with side ties, like this one from Luli Fama. Side ties protrude out just enough to bring the eye of your onlookers out which in turn makes your waist look two inches smaller. It's all about proportions, ladies.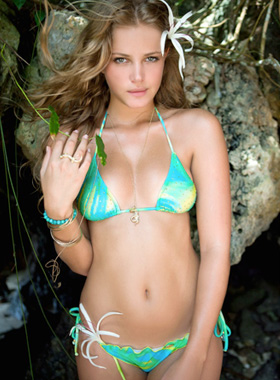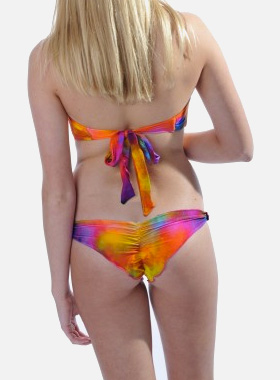 Rule #2: Ruching is your friend
A little ruching goes a long way! Nothing is more flattering than ruching on your behind because it accentuates the middle therefore giving you an even more bootylicious look. Try a flattering bottom like this one from Luli Fama (above).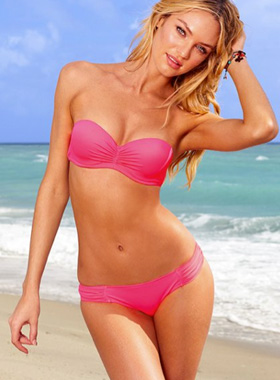 Rule #3: Find the right top for your bust
Triangle tops are not always the most flattering look. A slightly padded bandeau top twisted or cut out in the middle with straps either from the inner chest or outer is the most flattering and sexy look of all time, unless you have a very ample, perfect chest. If that describes you, then you should rock triangle tops, like this one from Victoria's Secret.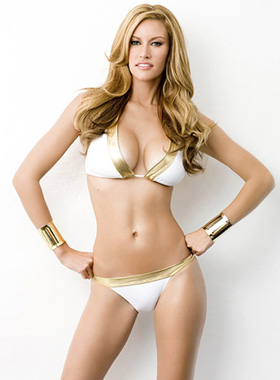 Rule #4: Designers matter
When it comes time to choose a swimsuit designer, just remember that your suits are only as good as your tailor! It is so important to have the right cut for your body and we are all made with love, care and imperfections. Lucky for us, most swimsuit companies sell separates these days for our convenience.
So what are a few of my fave designers? My number one favorite swim line is Holmes by my friend and supermodel Susan Holmes. Number two is Luli Fama, third favorite is Vitamin-A, fourth is Rees (but it's very pricey) and in last but certainly not least is Skin Flick swimsuits.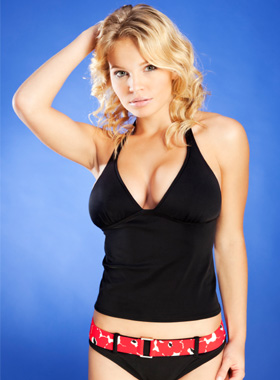 Rule #5: Ditch the tankinis!
Lastly, I have some serious issues with the "tankini." To me it just screams "Hey, look at me I'm kind of trying to be brave." Too much contradiction for me. It's basically a one piece cut into two pieces with all the fabric still there. Bottom line is I don't believe in tankinis. I think a one piece bathing suit with a few well-placed sexy cut outs is way hotter! Tankini be gone.
Bonus tip: How to look pretty in pictures
When it comes to getting your pictures taken in the almost near buff, there are a few things to consider!

Colors matter: I find solid bright colors photograph better than prints. Three basic suit colors that one cannot live without are white, black and either turquoise or hot pink! I promise.
Don't forget your beauty routine: Please don't forget to self-tan before hitting the beach! Exfoliate first with a salt scrub and a dry loofah, shave next and then apply your favorite self-tanner. I'm digging St. Tropez Mousse at the moment, but don't forget to apply with latex gloves. My next beach must is a cellulite cream. One of my faves? Bliss's FatGirlSlim! Just remember we all have a little bit of cellulite in one light or another at any age.
More beach tips
Look better in the buff before bathing suit season
Breezy beach wear for a tropical holiday
Hot product alert: Stylish swimwear for active women