Dear Luke,
I'm a single mom who's re-entering the job market. When I have worked, it's been from home. I have an interview in a week and I don't have a clue. Where do I start?
--Back to work mama
Luke responds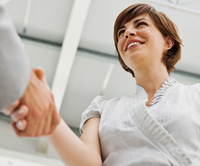 Dear Mama,
First of all, breathe. You won't look your best if you're hypoxic. Here's what I'd do: Treat the interview like you're auditioning for a role and dress the part. Prepare like an actor would. Here are the things you need to know to plan your outfit:
What's the scene?
In other words, what job are you applying for and within what company? A paralegal at a big law firm would dress more like a lawyer, whereas wearing a conservative suit to interview for a job at a boho art gallery would cast you in the wrong light.
What is the setting?
Find out as much as you can about the environment. Is there a dress code, spoken or unspoken? You want to be memorable but appropriate.
Who are your co-stars?
How do people in your position dress? Your supervisor? The big boss? Knowing the players will help you decide how far up the food chain to dress. When I interviewed for my first big menswear design job, I found out the creative director's favorite designer and wore that label to the meeting. It gave us common ground and set a relaxed tone.
What color looks best on camera?
And wear your best color. If you don't know your best color, a good bet is a medium tone of blue. First, it evokes trust. Second, almost everyone looks good in it. It's the color that's my ace-in-the-hole when I've never met the actor who's going on camera 10 seconds after the fitting.
Still breathing? Good. Here's a tip you can use to maintain your casual Friday flair:
Dear Luke,
It seems that I can never keep my jeans the right length. I wash them after a few wearings because they stretch out in the hip and waist but the legs keep shrinking. What do I do?
--Leggy in Louisville
Luke responds

Dear Leggy,
Preserving fit is the holy grail of jeans care, because we all know what we have to go through (tears, wailing, gnashing of teeth) to find the right pair.
There are a couple of things you can do: 
Keep your jeans away from the gaping jaws of death -- in other words, the dryer. I hang mine dry. Sometimes though, you don't get enough of a snap back in the waist. Should this befall you, follow these steps:
Dry on medium.
Remove from dryer while still slightly damp.
Grab the jeans by the waist and one leg at a time, step on the hem and pull at the waist to stretch them as much as you can.
Hold 30 seconds and release.
Now put them on a clip hanger to finish drying. The body will have snapped back and you've preserved your length.
When you do find the perfect basic jean for you, buy multiples. That way when styles change and the new fall delivery surrounds you in a sea of unflattering looks, you'll be covered.
more red carpet secrets
Hey! I'm really excited about my new show, Secrets of the Red Carpet, streaming live on emPOWERme.tv Saturdays starting May 19 at noon PST, 3 p.m. EST, with video on demand May 5. See a sneak peek now here.
Watch: What's your style DNA?
Today on the Daily Dish, Fawn Cheng gives tips for finding out your own style DNA.
More style advice
How to love your style without a makeover
Jeans: How to find the best fit for your body
Dress to impress: How fashion can affect your career