You don't need to buy expensive nail art tools – almost all of the supplies we use can be found around the house, like Scotch tape, bobby pins and Q-tips.
Nail art tutorial: Neon polka dot French manicure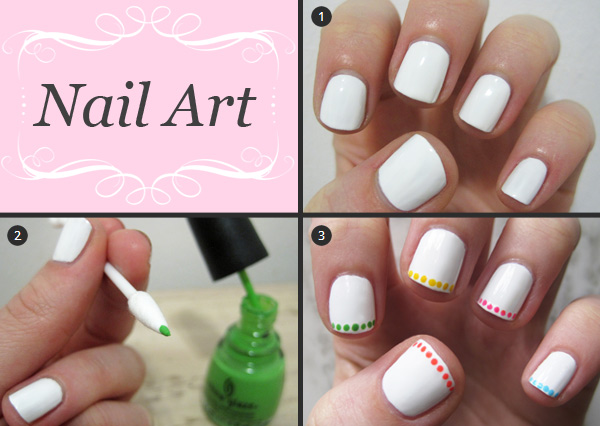 Step 1: Paint each nail with a neutral polish such as a white or nude. We love bright white polish, so we used Sally Hansen xTreme Wear in White On.
Step 2: You don't need to buy a fancy dotting tool – you can get equally great results with a pointed Q-tip, a bobby pin or an unfolded paper clip. Collect a small dot of polish on top of the Q-tip or other tool and create small dots across the tip of each nail with the five colors of your choice.
Step 3: Avoid smearing by allowing the dots to dry completely before adding a top coat. This is an understated yet trendy way to rock the neons that are so hot this season.
Nail art tutorial: Splatter manicure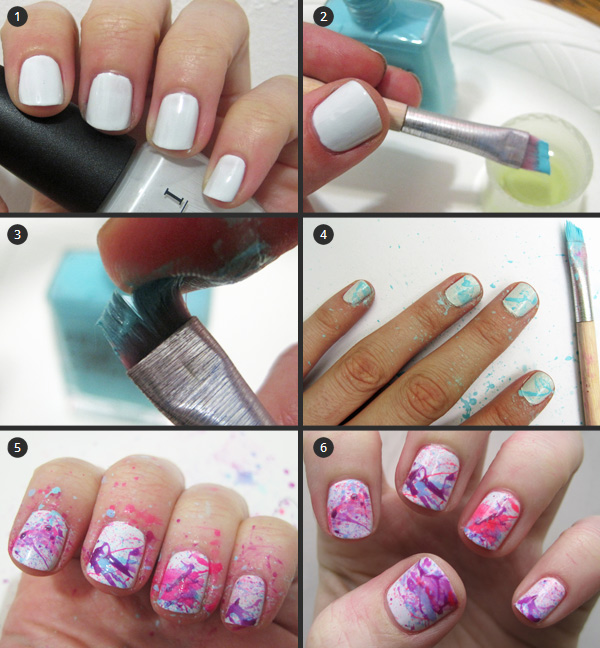 Step 1: Begin by painting your nails with a light-colored polish. We used OPI My Boyfriend Scales Walls.
Step 2: Dip a slanted makeup brush or small paintbrush in a bright, saturated polish. Next, quickly dip the polish-covered brush in a bit of nail polish remover to thin it out.
Step 3: Channel your inner preschooler and pull back on the brush to splatter polish across your nails. It's a messy process, so make sure you're working on a covered surface!
Step 4: Continue splattering with as many polishes as you'd like (We used three bright colors).
Step 5: Now comes clean-up. Begin by using a remover-soaked cotton ball to wipe away the splatters on your hands and fingers. After most of the splatters are cleaned up, switch to a small remover-dipped makeup brush to clean up the skin right around your nails.
Step 6: Add a top coat and get ready to answer "How did you do that?" for the rest of the day. This is such a fun, unexpected look!
Nail art tutorial: Chevron tape manicure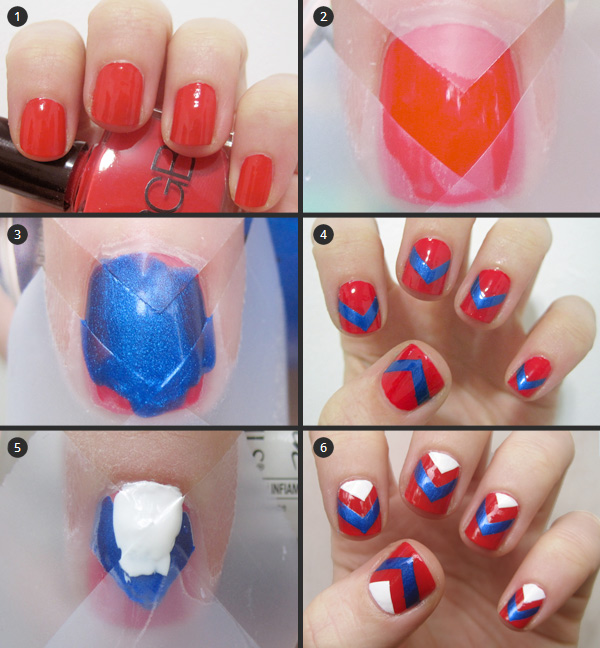 Step 1: Paint each nail with the polish of your choice. Add a good top coat and allow your nails to dry completely. If possible, give yourself a few hours of drying time before moving on. We started with RGB Too Red.
Step 2: Apply three pieces of Scotch tape to your dry nails. Apply the first piece of tape at the bottom of your nail so the corner points up toward the center. Overlap the other two pieces at the top of your nail to create the chevron shape in the center of the nail. Press down firmly on the edges to make sure you have a tight seal.
Step 3: Paint over the Scotch tape with a contrasting polish. We used China Glaze Frostbite, a vibrant blue.
Step 4: While the polish is still wet, slowly remove the tape to reveal your design. Once the second color is dry, apply a top coat. You can stop here with this fun two-toned mani or keep on going!
Step 5: Overlap two pieces of tape to section off a triangle at the base of each nail. Fill in the triangle with a contrasting color – we used Sally Hansen xTreme Wear in White On.
Step 6: Remove the tape to reveal your finished look. Add a top coat for shine and protection, and get ready to show off this fun, modern mani.
Here are a few manicure tips to master these nail designs:
Sheer colors and "jelly" polishes are great for regular manicures, but highly-pigmented colors are best for nail art. Fewer coats = fewer mistakes.
Always use a base coat and finish with a glossy top coat for shine and protection. These are like primer and powder for the face – essential for staying power!
Cleaning up polish that ends up outside the lines takes an at-home manicure from amateur to professional. After painting my nails, I dip an angled eyeliner brush in remover and run it along the cuticle line. This cleans up messy brushstrokes and creates a clean, smooth line.
Don't worry if your finished nail art isn't perfect – mine never is. Nail art isn't about perfection; it's about being creative and having fun with your nails. No one else will notice if your lines are a little crooked or your polka dots aren't all the same size, I promise! You've got this.
More on nails
4 Ways to sparkle up your nails
Nail art photo gallery
4 Animal-inspired nail designs