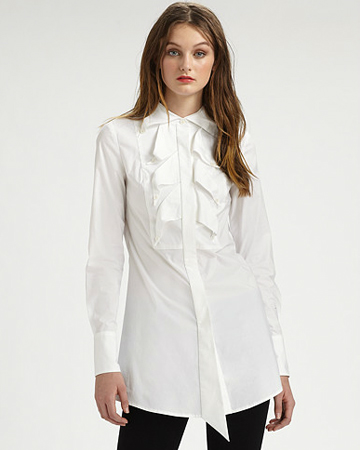 Campaign worthy
Ever dream of seeing your name in a national campaign? Perhaps in a glossy ad in the latest Vogue? The contestants on Fashion Star took their brands to the next level by building campaigns to promote their collections on this week's episode.
Which look did you think was campaign worthy? I take my favorite look and show you how to steal the look for less as your resident style guy.
Before we begin, I have to say congratulations, Jessica Simpson, on the birth of Maxwell! OK, now onto Fashion Star...
You know you've truly made it as a designer when you see your latest design featured in a top magazine or plastered on a Fifth Avenue storefront. The classic American Tommy Hilfiger ads, anyone? Well the designers on this week's episode had the opportunity to see what it's like to have a major campaign when the mentors guided the contestants to create fierce looks to promote their collections.
This week, Kara Laricks proved she was campaign worthy. (It seems as if Kara is my top choice every week! Obsessed with her.) Her long version of the tuxedo shirt was so luxe and expertly designed, I immediately wanted to see every woman wearing it on the streets. That's sophistication at its finest. Plus, she started a bidding war between Saks and H&M... again!
Why do I love this look?
A white, oversize tuxedo shirt with a black skinny pant is the ultimate version of casual chic -- the "Audrey Hepburn" look.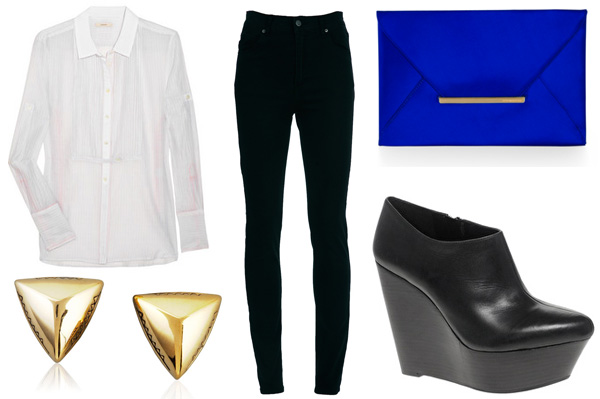 J. Crew Cotton and Silk-Blend Tuxedo Shirt $50, Cheap Monday Second Skin Jeans $88,
BCBGMAXAZRIA Harlow Satin Envelope Clutch $78, ASOS Trick Leather Wedge Shoe Boot $67,
House of Harlow Faceted Triangle Stud Earrings $30
More Fashion Star
Get the look: Fashion Star episode 7
Get the look: Fashion Star episode 6
Get the look: Fashion Star episode 5
Photo credit: Tyler Golden/NBC