Dear Luke,
This may sound silly, but here goes. I've been making more of an effort with the way I dress. As a result, I've been getting a lot of compliments. The problem is, they make me very nervous. I never know what to say, so I freeze up or start running at the mouth. What can I do?
Freaked by Flattery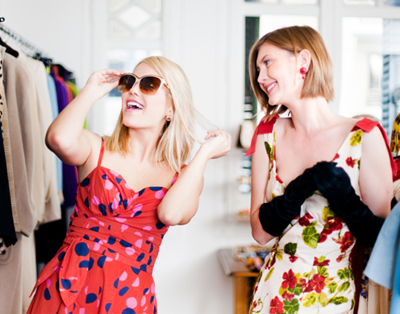 Luke responds
Dear Freaked,
You're not alone. Since the shuttering of nearly all the finishing schools in America, no one is taught how to take a compliment. The most typical response is to deflect the praise in some way.
For instance, if you say something like, "Really? Do you think so?" you're really just fishing for more. As in,  "Really? Do you think so? Tell me again." Or as an actor friend of mine used to say (sort of as a joke), "Oh, enough about me. What do you think about me?"
To get on the road to compliment comfort, start by editing yourself.
No ifs
How often do you if away praise? Should one of your girlfriends say, "That's a fabulous dress," don't if them like this: "If they'd had it in the color I wanted it would be better." Or, "If I lost five pounds it would be perfect."
No ands
This will sound counterintuitive, but truly, it's not necessary to immediately return the compliment. Obsessive returning is just another way to deflect. Yes, you should be complimentary to people, but not as a defense mechanism. Like this:  When she says, "That's a fabulous dress," refrain from launching into, "And you! I love your dress/hair/eyelashes/earrings/bag!"
There's a reason this is called, "returning the compliment." It's because you're giving it back. Like a hot potato.
No buts
This is classic compliment denial disguised as modesty. She says, "That's a fabulous dress." Don't but them like this: "But it doesn't look as good on me as it did in the magazine," or the classic but, "Oh, this old thing!?"
The simplest answer is the best answer
The best way to become a good compliment receiver is to simply acknowledge it. Just say, "Thank you." That's all. This allows the compliment to settle, so you can take it in and appreciate what's just been said to you. It also lets the person know you heard it, which is the best compliment to them.
This might take practice. Just remember that thank you is a complete sentence. No ifs, ands or buts!
P.S.:  One of the easiest ways to get comfortable with taking compliments? Give them. Unsolicited. Don't wait until someone compliments you. The best place to practice? At parties. Go up to three people you don't know and give them a compliment. Make it sincere. You'll be amazed at how much simple joy you're giving. If nothing else, it's a great ice-breaker. Enjoy!
more red carpet secrets
Hey! I'm really excited about my new show, Secrets of the Red Carpet, streaming live on emPOWERme.tv Saturdays starting May 19 at noon PST, 3 p.m. EST, with video on demand May 5. See a sneak peek now here.
Watch: What's your style DNA?
Today on the Daily Dish, Fawn Cheng gives tips for finding out your own style DNA.
More style advice
3 Celebrity everyday style must-haves
How to host a clothing swap
Eco-friendly fashion lines you'll love