Alexandra Suzanne Greenawalt of AlexandrAStylist.com and author of Secrets of a Fashion Stylist takes it one step further, "If you're going to wear jeans at work, I would suggest dark, dressier jeans -- especially those with front creases and waistbands, more like denim trousers."
Create a great pairing
Even if you're wearing the most beautiful, professional pair of workplace trouser jeans, you can quickly ruin the look with the wrong top. Because your pants are so casual, to keep the look professional, Saboura explains, "the easiest and most obvious way to pull of jeans at work is to team them with a chic fitted blazer or girly jacket. This instantly elevates your look and adds a professional flare to your outfit. I also love a cool cardigan as an option. The extra layer looks polished and modern and is a softer alternative to the structure of a blazer."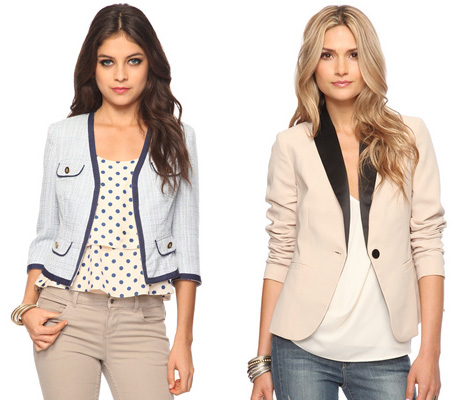 Not sure where to start? For a young and fresh look, layer the Mock Pocket Tweed Blazer (left) or the Contrast Shawl Collar Jacket (right) from Forever 21 over a camisole or close-fitting blouse. Both are available for under $30.
Flaunt hot shoes
While it can be acceptable to wear flats with jeans, a great pair of heels will take your look from "weekend" to "workplace" almost instantly. It is important, though, to remember that details matter when choosing the right shoes. Saboura explains, "your shoes and accessories speak volumes about your style and can make or break your style on the job. Choose leather closed-toed styles, unless your office is super casual. Avoid sandals and styles that bear too much skin."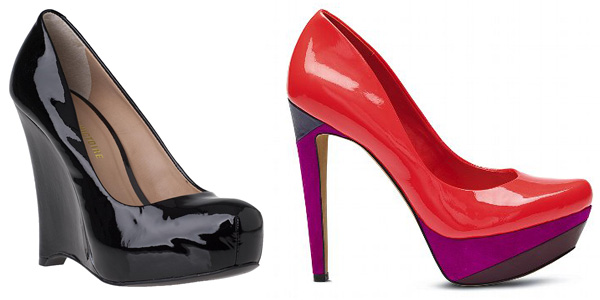 Need to find a great pair of pumps? Consider the unexpected style of the Pour La Victorie Ivonne Wedge Pump (left) available at DSW for $140 or the sexy pop of color offered by the Jessica Simpson Colorblock Pump (right) available at Victoria's Secret for $98.
Expert tip
When wearing jeans with heels, you almost want the jeans to skim the ground, leaving about a half-inch between the hem and the floor. Be sure to try on your jeans with the shoes you plan to wear to make sure that you have the right fit.
Get skinny
While dark washes and traditional cuts are surefire ways to rock the corporate jean, don't assume you can't try some of denim's hottest styles at the workplace. Skinny cuts and colorful dyes have flooded stores everywhere, and unlike acid or whiskered washes, these two styles actually lend themselves to an office environment. Just a few notes from Saboura to make sure you get the look right: "Skinny jeans look wonderful with a buttoned up blouse, adding the perfect amount of edge to your look. Pair them with a blazer, cardigan or structured top. Dark skinny jeans work best on the job, but you can play with grey and black denim as well.
"Colored denim is everywhere this season and I actually find they add a ton of interest to your look, forcing you to dress more creatively for work. Most colors and tones will do as long as you contrast the color with something more buttoned up on top and pair them with a great shoe and bag. Colored denim can go edgy or preppy, so your personal style will guide you here."
More fashion tips and trends
Reader stories: Favorite jean: What makes them your favorite?
What's the best pair of jeans for you?
5 Perfect outfits for life's best moments