There's really nothing worse than having a skin care regimen that doesn't work for you. Acne and combination skin have pretty much dominated most of my teens and 20s, and finding the cleanser that lived up to the promises was -- well -- a bit like reaching for the moon.
If you're truly someone with combination skin, then you'll know certain parts of your face need moisture and certain parts are just too oily. Finding the right cleanser that doesn't do a Brillo Pad number on your face is hard, and I've been there.
Biore's new Combination Skin Balancing Cleanser is one of those products that tries to achieve two things: cleansing and balancing the natural moisture in your skin. There's no "taut and dry" feeling with this cleanser and after two weeks of use, the product promises that you'll see "combination areas" that are "more balanced." After one use, my face didn't feel dry at all but healthily refreshed. My skin felt extremely clean but not dry. Throughout the day, I noticed I didn't have as much oil as I normally do.
When combined with other products from the Biore line (like the Blemish Treating Astringent or Warming Anti-Blackhead Cleanser -- a personal fave), the acne-prone and problem skin does start to improve, but your skin doesn't feel too dry. Two thumbs up!
The new Biore Skincare Collection look is palatable: Choose the Orange range products for complexion clearing (such as the Blemish Treating Astringent, which I love because it's gentle and effective; and the Blemish Fighting Ice Cleanser which clears and cools), or the Blue for thorough cleansing (apart from the Combination Skin Balancing Cleanser, my absolute fave is the wildly popular Steam Activated Cleanser), or Pink for makeup removing (try the Makeup Removing Wipes).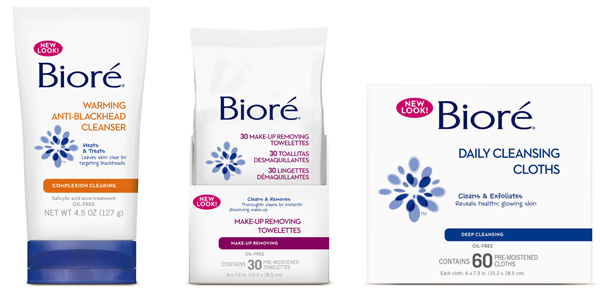 But that's not all Biore is introducing. Here are some of the new goodies:
Biore Combination Skin Balancing Cleanser (aka, the New Kid on the Block)
Warming Antiblackhead Cleanser (Orange line for complexion clearing: This one is a true winner in the blackhead removing dept.)
Makeup Removing Towelettes (Pink line for makeup removal -- these are not just a pretty face: They're gentle and they work.)
Daily Cleansing Cloths (pre-moistened and deliciously infused with grapefruit and pomegranate)
Don't forget to check out the new products at www.biore.com, all available at select food, drug and mass merchant stores.
More beauty finds
Combination skin: The golden rules of skin care
Tips: How to manage oily skin
What to eat for radiant skin