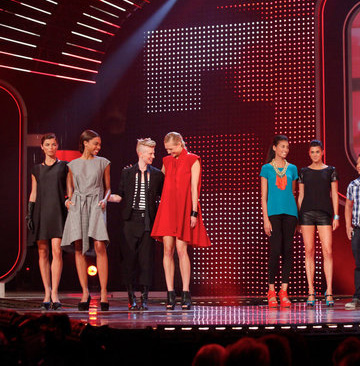 Real women designs
Looking for an outfit that is actually influenced by a real woman's body? I take my favorite look from last night's challenge on Fashion Star and make it even more wearable for less as your personal stylist and resident style guy.
If you missed last night's episode of Fashion Star, here's a quick recap on how the show will work… trust me, you'll be hooked.
Last week, the designers had to create a collection based on one of their signature pieces. This week, the competition got even tougher when the contestants were challenged to receive feedback from real customers, before they showed to the buyers.
For me, the toughest part about design in general (as seen in this challenge), is appealing to the entire country. "You have to be able to take it to America," John Varvatos said. So clearly, I couldn't wait to see what the designers would send down the runway.
Kara Laricks disappointed everyone last week (including me) by only incorporating a single necktie accessory into her looks… but this week, she rocked it. (Like, really rocked it). She sent variations of a tie dress down the runway that the real women adored, and that also started a bidding war between the buyers from Saks Fifth Avenue and H&M. Saks ended up buying the dress for $110,000! (Now that's what I call a real fashion competition.)
Favorite look
My favorite look from her collection? This red tie dress. The luscious color, beautiful draping and expert detailing makes this a total must-have this spring.
Here's how to get the look from simple pieces or from items you already have in your closet.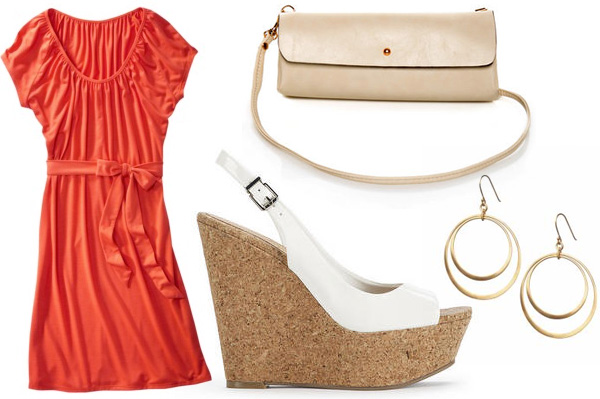 Merona Essential Summer Dress $28, Jessica Simpson Amande Wedge $79,
LuLu's Little Bundle Ivory Purse $33, Banana Republic Double Hoop Earrings $40
More fashion
Get the look: Fashion Star episode 1
Steal the look: Project Runway All Stars episode 10
Steal the look: Project Runway All Stars episode 9
Photo credit: Tyler Golden/NBC