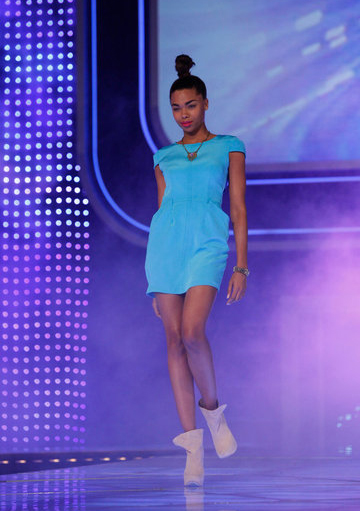 Be your own fashion star
Did one of the looks on last night's Fashion Star catch your eye? I take my favorite winning look from the mega fashion competition show as your resident style guy and show you how to get the look for less!
Fashion Star premiered last night on NBC, and while we'll always be obsessed with Project Runway, this new style TV show literally takes competition to a new level.
If you missed last night's episode of Fashion Star, here's a quick recap on how the show will work… trust me, you'll be hooked.
14 designers face celebrity mentors Jessica Simpson, Nicole Richie and John Varvatos, with Elle Macpherson as the host, for a chance to actually launch their own capsule collections in Macy's, H&M and Saks Fifth Avenue! An even bigger prize than that? The value of the entire prize is $6 million — how major is that?!
Plus, the winning design that has the highest bid from the retailers will be immediately available for purchase after every episode — great for my compulsive shopper habits but bad on my wallet. Fortunately for you, I'm breaking the winning look of the evening down to show you how to get the look. You may even be able to create the look with items already in your closet!
This week, the designers had to use a "signature piece" and style it three different ways. I personally loved fashion newcomer and mom Sarah Parrot's new take on the little black dress. (So did H&M because they bought the item for $80,000!)
Sarah's simple, yet sophisticated, designs incorporated chic pockets, thick straps and backless detailing that made wearing a short dress look easy for the everyday woman. She even incorporated a teal dress into her black motif — which I love for spring.
While a little black dress is a staple in any closet, try incorporating Sarah's teal design into your wardrobe with a strappy sandal and envelope clutch (that you may already own) to look stunning and fresh for any spring event.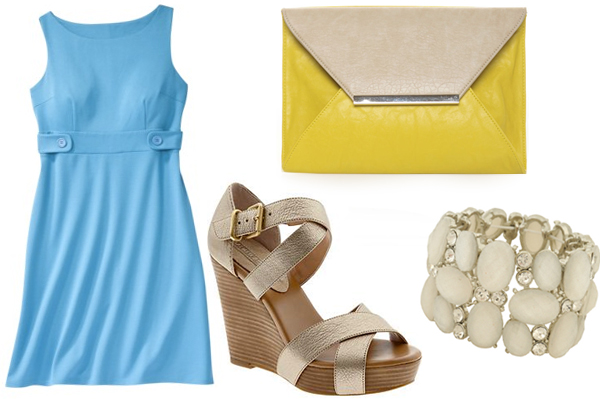 Merona Side Tab Ponte Dress $25, LuLu's Lemon Meringue Pie Yellow Clutch $37,
Banana Republic Sarah Wedge Sandal $120, Forever 21 Stone Cluster Bracelet $9
More fashion
Project Runway All Stars recap: Episode 10
Steal the look: Project Runway All Stars episode 10
Steal the look: Project Runway All Stars episode 9
Photo credit: Tyler Golden/NBC