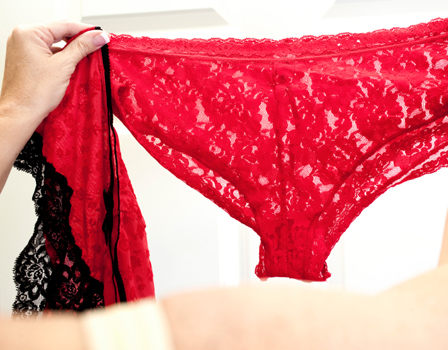 The wrong underwear can make or break an outfit. That might sound like an exaggeration, but wearing underwear that is too tight, causing bulges, or too large, causing an excess of baggy fabric, can turn your perfect ensemble into a mess.
Which undies are right for your outfit?
Here's how to choose the right skivvies for the right outfit
For the form-fitting ensemble
If you're wearing something a little vavavoom, choosing the right underwear is crucial to getting a smooth and sexy waistline. If you're wearing a dress made of tight, stretchy fabric, you'll almost certainly want to wear a thong – but not just any 'ole thong. You want to make sure that the sizes of your underwear don't dig into your skin, causing unsightly lumps in an otherwise slender figure. Thong underwear with lots of give to the sides, like stretchy lace, can help you create a seamless look. If things still look less than smooth once you've tried the outfit and thong on together, you might want to consider investing in shape wear. Body shapers suck in problem areas and create the perfect bodyline for form-fitting clothing.
For the short skirt
Short skirts are great for sex appeal, but you never want to turn sexy into vulgar. Short skirts run the risk of – ahem – exposure. So, when you're putting on that cute, tiny, flowy spring dress, make sure you're covered. Literally. Seamless boyshorts are a great option. You won't create a panty line in figure-hugging skirts, and, in loose skirts, you'll make sure you don't flash a Lindsay Lohan on the way out of the car.
For the denim lover
Jeans are the perfect casual look. They're universally cool, but that doesn't mean they're all made the same way. Some brands are thinner and stretchier than others. As a good rule of thumb, the thinner the denim is, the less underwear you want to wear. In other words, if you decide to pick up a pair of pencil jeans with stretch, you'll likely want to pair them with a thong. If your denim is rough and tumble, odds are that a panty line won't show through. Wearing denim is one occasion where you get to choose your underwear, instead of letting your outfit decide for you.
For around the house
When you simply just want to be comfortable, it's important to have a go-to cut of underwear. Experiment with what works for you. If you wear yoga pants around the house, boyshorts can mask panty lines. If you're more of a sweats girl, bikini panties are a comfortable and versatile cut. Find what works best for you. After all, your home is the one place where you can feel 100 percent comfortable all the time.
More on fashion
Sexy ways to show your straps
Is modest hottest? 4 stars who keep things under wraps
Scandalously sexy: 4 stars who show off their stuff