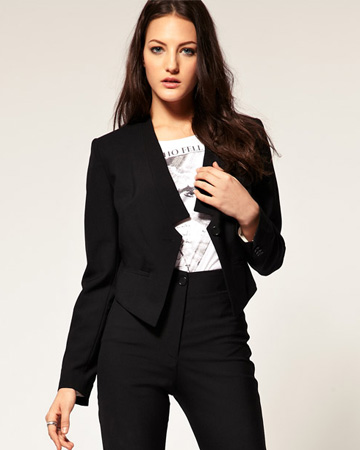 On-trend office attire
If you work at an office, you know how important it is to look polished and professional. But it's not always easy to put together the perfect at-work wardrobe. Whether you're bored with your current crop of office staples or you're not sure what you need to look your best on the job, we have the pieces you need to impress and look professional.
Statement jacket
A statement jacket is that perfect work item that adds some serious fun to your office wardrobe. It gets noticed without taking away from the overall professionalism of your look. Think about opting for something that can add interest to an otherwise neutral outfit and take your office basics (pencil skirts, tailored trousers) to new heights. Rock a statement jacket like Blake Lively has recently, with three styles inspired by the chic fashionista.
Sass up the office by pairing a tuxedo jacket (ASOS.com, $108) with a fitted top and a black pair of skinny pants.
Walk away from the conventional by pairing a solid, neutral colored dress with a jacket that has a pop of bold color, like this one from Quincy (quincyapparel.com, $228).
The perfect pairing comes in the form of a dark pair of skinny jeans with a statement jacket with bold, eye-catching detailing, like this one from H&M (hm.com, $30).
More style tips and trends
Dressing for your body: Hourglass
How to fall in love with your look
Spring style trends to look forward to