The boyish dilemma
Since your body is straight and narrow, you don't really have many curves. Many women with boyish figures struggle to create a more feminine look in their everyday styles.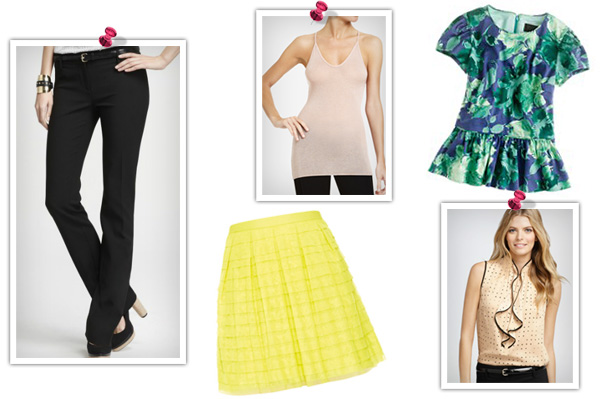 The simple solution
Add volume: Even though you're not particularly curvy, you can create the illusion of a nice curvy figure by adding volume to your top or bottom half. To add some volume to your bottom, throw on a flirty tutu or ruffle dress or skirt. Try this vibrant one from BCBGMAXAZRIA. Or, create the illusion of curves by keeping things nice and fitted on top by wearing a form-fitting top like this one from BCBGMAXAZRIA. Add volume to your top half by wearing a top with ruffles, heavy embellishments or puff sleeves. Pair a top like this with a simple black skinny/slim pant.
Belt it out: Adding a belt to your dress or tunic-like top is an easy way to create a waist for your boyish figure.
Pretty in peplum: One of spring's hottest trends, the peplum, is perfect for the boyish figure! To help create volume at your natural waist, try a peplum top like this one from J. Crew.
Get skinny: Throw on a pair of skinny pants or jeans and you'll have long, lean looking legs to complement your otherwise boyish figure.
Hike up the heels: As with any figure, adding a pair of heels can do wonders for accentuating your natural shape. Throw on a pair of platforms to finish your look, and you'll be good to go!
More fashion
Friday's Fashion Obsessions: Katherine Heigl and Emmy Rossum's feminine looks
Friday's Fashion Obsessions: Ashley Benson's flirty frock and Viola Davis' pretty pink dress
Friday's Fashion Obsessions: Naya Rivera and Cameron Diaz's flirty dresses
Photo credit: Adrianna M. Barazza/WENN