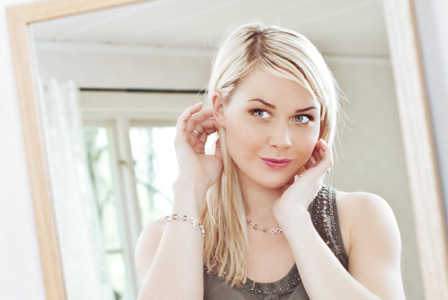 Learn how to make the most of your natural beauty and accentuate your positive assets!
Be confident in
your beauty
As women, we can be self-critical. Few of us are totally happy with our appearance, and too often, we dwell on the negatives and forget to compliment ourselves on the positives. Feel better about how you look by following a simple rule: Make the most of your positive assets and learn how to work with what you've got.
The eyes have it
I
t's often said that the eyes are the window to the soul. If gorgeous eyes are your best feature, play them up with smoky tones. Sweep a medium taupe eyeshadow over your lids and line with a slightly darker shade. Gently smudge the liner out for a smoldering look. Finish it off by adding a coat of nourishing EnvyDerm mascara that will condition your lashes for a smudge-proof and sexy look.
Perfect skin
Creamy, glowing healthy skin is a blessing. Don't clog it up with too much makeup. Cleanse and prime for a smooth base that makes flawless cosmetic application a breeze. Invest in a skincare regimen that walks you through the process from start to finish. Both Ambiance Cosmetics and Stages of Beauty offer high-quality, reasonably priced options.
Glorious hair
Long or short, the key to making the most of glorious hair is a great cut and style that enhances your features and is easy to manage. Natural or color treated, it's all about shine and dimension. When your hair is glossy and healthy, it can be your crowning glory. Add shine to your locks with a serum infused with argan oil like BE Beverly Hills' Shine & Repair Serum.
Waist

Show off your tiny waist by wearing fitted clothing on your top half and cinching your middle with a belt. A swishy skirt or draped pant showcases this feminine feature. Have a little extra around your middle? Fool everyone, and fake a waist with an empire waist silhouette or asymmetrical detail. Make sure you belt clothing at the smallest part of your body to automatically elongate your torso and look taller and slimmer.
Cleavage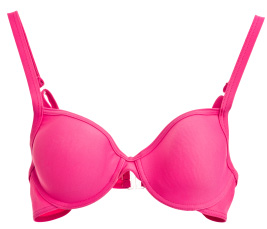 Too much? Too little? Ample-chested women should always begin by investing in a well-fitted bra that provides shape and support. A hint of cleavage is sexier than showing too much. V-necks are a smart choice because they draw attention to your face and help balance your proportions. Fit should be comfortable but not too snug...you should never strain buttons on a shirt or cardigan! Wrap tops and dresses are always flattering, and a halter-neck top can skim those killer curves. Small breasts? Make the most of them by embracing clothing that your ample sisters can't pull off! Get visual volume with ruffles, lace trims and bright prints. Be bold and wear slinky camisoles and thin-strapped tops.
More beauty tips
Spring style trends
Get celeb mom style
3 Easy ways to feel more beautiful every day
Bootylicious
Don't try to hide in frumpy A-line skirts. Show off your enviable curves in a chic jumpsuit. It's effortlessly flattering -- as is a well-fitted pencil skirt. This slim style should never be too tight - it should show off your curves discreetly.
Another winner for women with ample behinds is the gaucho pant in a lightweight fabric that isn't too clingy. Wool and cotton blends make these items comfortably wearable year round.
If you have great legs, opt for the pencil skirt paired with sky-high heels.