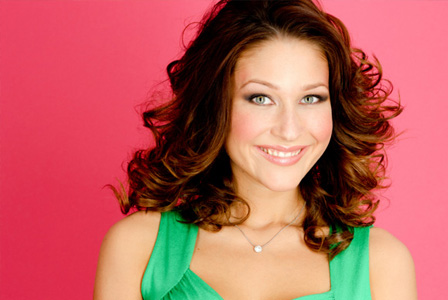 Whether you're in love with your curls or you can't wait to straighten them every day, you have to admit that curls in general are pretty sexy. There's just something so flirty and fun about a head full of curls, after all.
Embrace your texture!
If you fall in the "I hate my curls" category, it's time to stop resisting the power of the curl. We're here to help you work with and learn to love your hair's curly texture.
This month at SheKnows, we're all about embracing your natural beauty and teaching you to love your look. To help all the curly ladies out there learn to love their locks, we chatted with Justine Piecuch, a hair stylist at Boston's renowned Jeffrey Lyle Salon, to get a few hair tips for embracing your curly hair's natural texture. Once we get done with you, we hope you'll love your curls as much as we do!
"Often times we fight what our hair is really trying to do, spending hours on a style that we're not even excited to walk out of the house with," Piecuch says. "For those with natural texture (curls), I'm not sure you truly realize how lucky you are."
In many ways, curly ladies have pretty much hit the hair goldmine. Not sure why? Here are a few reasons Piecuch offered:
You can always pull together an amazing updo last minute.
You always have volume.
A blow out will last longer because of the natural body in the hair.
When wearing hair curly, you don't have to always wash it daily.
You have no idea how versatile you can actually be!
Still not convinced? How about we make things a little fun? Since many gals with curls often get bored with their look, Piecuch loves to show her clients different ways to make the curly hairstyle more polished. Try this out and tell us what you think!
After applying a curling cream, twist 1-inch sections of hair.
Dry the hair with either a diffuser or by gently scrunching the hair.
After removing all the moisture, wrap vertical sections around a 1-inch curling iron, rotating the direction of the curls.
Apply a texture paste to blend the waves together. "This is great way to still feel like yourself and more polished," Piecuch says. "Drew Barrymore is always great inspiration for waves since she keeps the textured look, but tames it a bit by popping in a few curls."
The bottom line? Next time you're reaching for the straightener, think again! Curly hair can be fun, flirty, sexy... basically whatever you want it to be! Women shell out tons of cash on curling creams and irons to achieve the look you've got for free, so work it girl!
More hair
Outrageously gorgeous hair: Why celebs can have it but we can't
New year, new hair!
The 411 on frizz