(page 2 of 2)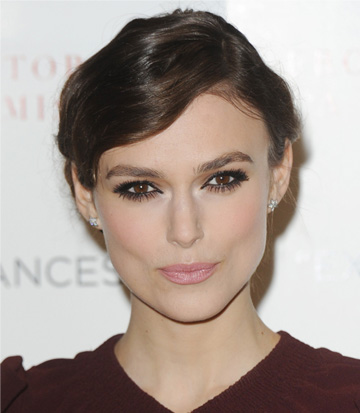 Get beautiful
Valentine's Day is the perfect holiday to experiment with your look and to impress your true love. Whether you are hitting the town or spending a romantic evening in, looking your best is the key to a beautiful night. Your makeup should be fun and flawless with an emphasis on natural beauty... the same beauty he fell in love with.
If you are headed out: Smoky eyes
It's fun to create a sexy, smoldering eye that will stand out during a candlelit dinner at your favorite restaurant. The moodier the lighting, the more dramatic you can take things. The secret is to play up the eyes, while keeping the cheeks and lips neutral.
Get the look
Even skin:
With a sponge, dab a sheer/luminous foundation around the entire face, blending well. This will eliminate any redness and create the perfect base for your lipstick look.
Don't forget to use a creamy concealer to soften and fade any shadows at the inner and outer corners of the under eye area and on top of the eyelid.
Make sure to "set" your foundation and concealer with a mineral based powder to ensure a flawless, matte look that will complement a smoky eye.
Smoky eyes:
Choose three to four different eye shadows, in the color range of your choice (neutrals like gray and taupe are fool proof) always working from light to dark.
Using a large shadow brush, place the lightest eye shadow all over the entire eye area, from lash line to brow bone.
Using a small shadow brush, place the second lightest color all over the entire ball of the lid area, and blend up (but not into) the crease.
Using a black kohl eyeliner pencil, fill the inner rim of the eye with pigment, and then squeeze the eye shut for about 10 seconds and then open. This will make the eye "pop" and create a deep, smudgy effect.
Again, using the black kohl eyeliner pencil, dot a line of black liner along the top of the lash line, using an upward and outward motion. This line does not need to be perfect because you are going to smudge the darkest shadow directly into this line and then blend. The dark eye shadow will set the eyeliner in place and create a "sunset effect" that is soft and smoky.
Subtle cheeks & lips:
A soft pink or peachy blush, along with a complementary lipstick or gloss, will complete this romantic look.
More Valentine's Day
Valentine's Day spa treatments
5 Little red dresses for Valentine's Day
Valentine's Day date night beauty
Photo credits: Apega/WENN, WENN