We asked Cassandra Connors, director and founder of Bella Bag, for her insight into how to choose the best purse or bag for your body type. "Just like any other article of clothing, a handbag can act as a major accent to your body type," she says. "Your signature style of bag can either over or underwhelm your appearance, or conversely, can balance out your frame with its shape. Usually I think that wearing a bag the opposite shape of your body provides that balance," she explains.
She shares her picks for best bags by body type.
If you're curvy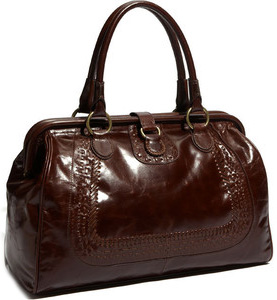 For curvy women, Connors recommends opting for a purse with more structure. She suggests something boxy like a Kelly-style bag or a doctor's satchel. "This is going to provide some great, sharp lines to coordinate with your body shape," she explains.
Our pick: Hinge 'Doctor' Satchel in chocolate brown leather (nordstrom.com, $248).
If you're petite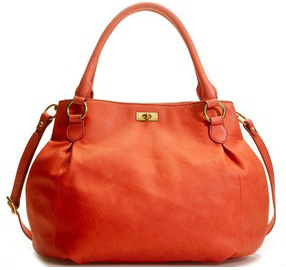 Believe it or not, petite women can definitely carry oversized bags, Connors tells us. "I would simply not recommend a cross-body or sling bag. This will be too much for their shape," she adds. Instead, try a mid-hanging hobo bag that comes right to your elbow. "This will be large enough to carry everything you need and yet will look very balanced on a smaller frame."
Our pick: Brompton Hobo in vibrant coral (jcrew.com, $298).
If you're tall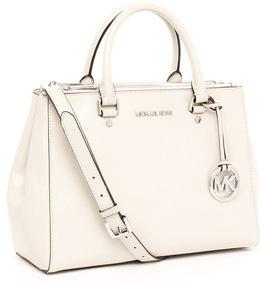 For a tall woman, a tote bag is a great option. It will accentuate long lean arms as you carry the tote in hand, Connors explains. "Choose one with a nice rounded shape or shimmering textures to give some contrast to a tall and possibly straight shape."
Our pick: Michal Kors Bedford Dressy Tote in vanilla (neimanmarcus.com, $298).
If you're thin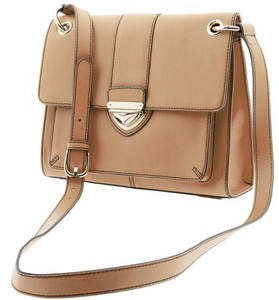 Anyone who is slim and trim looks great with a cross-body purse, says Connors. "Cross-body bags are perfect for thin types because it won't matter that they will add a little bit of extra bulk around the hips or thighs."
Our pick: Banana Republic Aria leather cross-body bag (bananarepublic.com, $120).
If you're pear shaped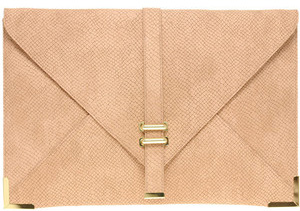 For evening especially, Connors advises opting for a clutch if you have a pear shaped body, specifically, an envelope clutch or a small pochette. "Carrying a bag in hand will consistently bring the attention up to your hands and away from your hips," she says. Choose a clutch that has a detachable small strap and tuck it under your arm for easy carrying as well, she says. "But be careful not to find one that hangs low. You don't want one that lies below your waist and adds extra bulk."
Our pick: Asos Slot Through Portfolio Clutch (asos.com, $36).
If you are plus size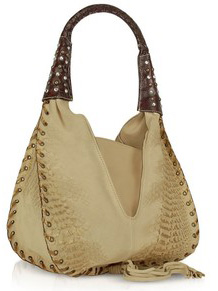 Try a bag without much structure if you're plus sized. A slouchy hobo purse or thin canvas tote bag are both good options, Connors advises. "These thin and slim bags will lie loosely and lightly against your body without adding bulk," she says. "Be sure you pick one with lots of accents on the handles and hardware though. You don't want to trade in quality or style!"
Our pick: Ghibli Jeweled Beige Suede and Reptile Leather Hobo Bag (forzieri.com, $385).
More style tips and trends
T-Shirt time: Tribal print trend
Spring style trends to look forward to
Outerwear report: What's your outerwear style?