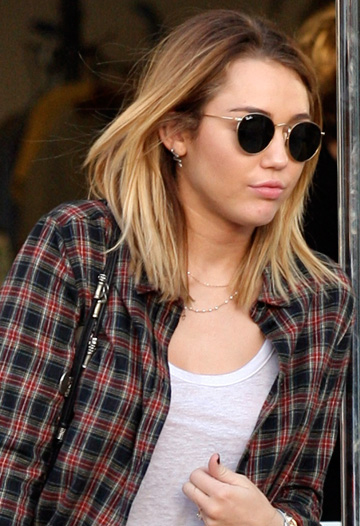 Short and sweet
Welcome to Celeb Hairstyle of the Week, where we'll share our fave celeb hair looks each Friday! Up this week? Miley Cyrus' new, mature cut!
It's no secret that Miley has been through her fair share of highs and lows -- professionally, personally and fashion-wise -- in the past few years. But it seems like the teen star is finally growing up -- at least style-wise. We recently raved about the singer/actress' People's Choice Awards dress and makeup and have noticed that Miss Miley has been making a true effort to clean up her look a bit.
Just this week, Miley stepped it up a notch and cut her famously long locks! The star tweeted about her "hurrrr cut" a few days ago, and told her fans: "I didn't do anything too crazy. But I did take 5 inches off!"
The short haircut is a bit of a change for the pop sensation, who's been sporting long, thick locks for several years, but Miley is certainly no stranger to hair switch-ups! The star has swapped between stick-straight locks during her Hannah Montana days to long, wavy locks of varying shades, and even some pretty dirty looking 'dos.
We're happy Miley went a bit shorter this time around because to be honest, her hair has been looking a bit ragged lately. Her new look is mature, age-appropriate and fun, and we're loving the nice sunny shade she's been sporting!
We're loving Miley's cute short haircut! How about you? Sound off in the comments! And check out other celebrity hairstyles!
More celebrity hairstyles
Celeb Hairstyle of the Week: Rose McGowan's sultry curls
Celeb Hairstyle of the Week: Olivia Wilde's chopped locks
Get the look: Tina Fey's 2012 Golden Globes hair/makeup
Photo credit: YNF/WENN.com, Daniel Tanner/WENN.com