After Mondo's sophisticated cocktail dress (Lanvin-inspired anyone?) and Ramy's plaid masterpiece, I eagerly waited until 9 p.m. to see what this crazy group of familiar faces had in store for me this week.
Immediately, when Badgley Mischka introduced the challenge of "A Night at the Opera," I thought, great… these designers have to design gowns for two of the biggest masterminds in eveningwear. This is going to be interesting, and potentially a hot mess.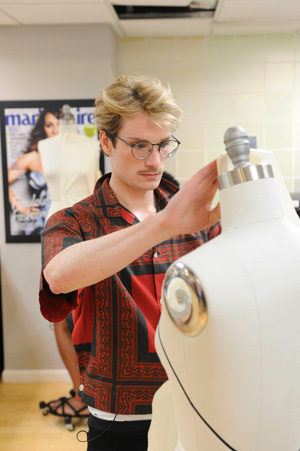 Of course, right off the bat, Michael had to throw a Real Housewives of Atlanta-style tantrum about April using red fabric (as if only one person could use the color). Even though he immediately switched to black, I secretly hoped he would throw something (like a tape measure or large fabric swatch) at April in the middle of Mood to spice it up even more. Oh well.
April kept the red and it really did seem logical at first, until she proceeded to dye the fabric. Eeks! Even Marie Claire's editor-in-chief Joanna Coles was skeptical. She totally had those judging Meryl Streep-inspired Devil Wears Prada eyes… and so did I of course. Why would you waste time trying to dye already beautiful fabric? Whatever.
I will say, aside from this, it was hard for me to pay attention during the workroom scenes because I was so captivated by Austin. No, not because he looks like a porcelain doll (I think I'll call him Mr. Porcelain from now on), but because his specialty is couture gowns and his execution is so pristine and captivating. Remember his cornhusk dress from the first season? Divine. I couldn't wait to see his final creation.
Okay, enough workroom talk, let's get to the real reason why we're all here… the runway. Here are my initial reactions to each of the designs. Naturally, the judges agreed with me (for the most part).
Kenley. Did Minnie Mouse decide to take Mickey to the ball at Barbie's dream house? Also, are polka dots really appropriate for the opera?
Gordana. While not a standout, the beading and draping reminded me of classic Hollywood glamour. Nice.
Rami. Pretty in pink. While the bottom moved beautifully, there was a little too much happening on the top. (Better last week for sure.)
Mila. Nighttime rocker glamour. Mila meet Mila Kunis' Golden Globes dress.
Sweet P. Did Ms. Frump turn her farm curtains into a dress? (While the judges liked the print, I couldn't stand it for a hot second.)
Mondo. A 1950s housewife would love to sport this beautifully executed dress.
Jerell. Are you really designing for a pregnant woman here? Fine, but boring.
Kara. Sorry, missed that one because it put me to sleep.
Anthony. You did this dress for $350?! The draping, the white, the drama? Oh my! Makes me want to channel my inner goddess and float through the sky.
Austin. Looks like an Oscar dripped in gold with this timeless, tasteful and classic masterpiece.
April. Nice try on the dyeing, but beyond poor execution. I didn't even know where to look with the bodice construction. A mess… as I predicted.
Michael. I immediately thought divine Eva Longoria. I started screaming (yes, I scream) when I saw the feathers and that simple crystal band on the back. Stunning.
The official winner? Austin's gold creation. Of course. Well deserved. My winner? Michael's black glamour dress. The loser? Sweet P… as it should have been. Nice try, but bye.
My predicted winner after this episode: Austin Scarlet
See you next week!
Xo,
Your Resident Style Guy
More fashion and entertainment
Pretty Little Things: My winter wardrobe essentials
First look: Jason Wu for Target
Betty White lauded at the People's Choice Awards
Photo credit: Josephine Schiele, 2011 Lifetime Entertainment Services, LLC