Everyone loves a good freebie, especially celebs, and each award season, brands from across the industry come together to pamper the hottest celebs out there. Today, HBO is hosting the 10th annual Luxury Lounge to pamper Hollywood hotties with luxury gifts and services to prepare them for this year's Golden Globe festivities, and right about now, we're totally wishing we were a celeb. Feast your eyes on these gift bags your fave stars will be getting, lovelies, and prepare to drool!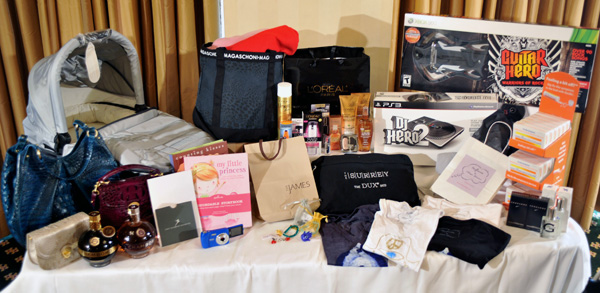 Like what you see? We're giving away one bag to a lucky reader!
L'Oreal Paris
Looking beautiful doesn't come easy for the top celebs, but L'Oreal is helping your fave celebs beautify like a true star. Celebs will be receiving a bag filled with all the following goodies this year: Voluminous False Fiber Lashes Mascara, Colour Riche Balm, Colour Riche Nail, Elnett Satin Hairspray, EverCreme Conditioning Cleanser, Infallible Eye Shadow, Youth Code Dark Spot Correcting & Illuminating Day Cream SPF 30, Sublime Sun Lotion SPF 50+, and Men's Vita Lift Moisturizer with SPF (Total Retail Value: $150).
Brahmin
Celebs are known for their "it" bags and you'll certainly be an it girl if you tote around the Anywhere Convertible in Moonlight ($235).
New Era Cap
Guess there's something for every guy and gal out there in this bag! Shield your locks from the elements with a cute New Era hat ($45).
GameFly
For those downtimes in between filming, celebs can take advantage of a one-year, two-game subscription for GameFly (Retail Value: $275)!
Michael Antonio
Gift cards are always a crowd favorite, and we're sure the stars will love this $80 Michael Antonio footwear gift certificate.
Nautica
Your fave stars will be toting home a Nautica gift bag filled with goodies galore. Want a look inside? Check it out: Nautica Beach Towel, Women's Polo in White, Women's Swim - Reversible Triangle Top in Navy, Side Bottom in Navy, Men's Polo in Navy, Men's Cargo Board Short in Red (Total Retail Value: $254).
Boiron
It seems like more and more celebs are going green lately, so Boiron's Eco-Friendly gift bag is sure to please plenty of stars! What's inside? Oh just a few goodies: Oscillococcinum, Chestal Honey, Coldcalm, Arnicare Cream, Arnicare Gel, Optique 1, Calendula Cream, Sedalia, Quietude, Roxalia, Jet Lag CareKits and Easy Guide to Homeopathy booklet (Total Retail Value: $123).
Magaschoni
Is there anything more luxurious than cashmere? Celebs who stop by the Luxury Lounge will be treated to Magaschoni's Sweetheart Cashmere Scarf ($98). We'll take one in every color, thank you!
More Golden Globes
Celebrity fashions at the 2011 Golden Globe Awards
Ben Stiller says comedians get no love from Oscar
Ricky Gervais back to offend as Golden Globes host
Nautica