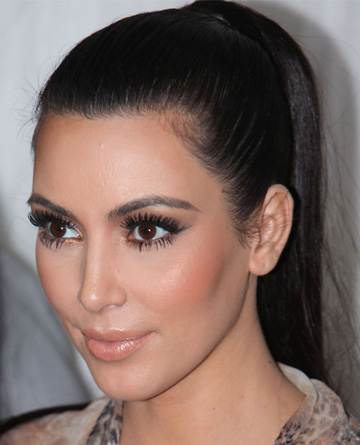 Give your lashes a boost
This winter is all about long and lean lashes. We might have been singing the praises of clumpy spider lashes in spring and fall, but it's time to add length and glamour. No heavy, weighed down lashes here -- only flirty, flattering, pretty peepers. If your lashes need a boost, follow our simple steps for applying false ones.
Lash lesson #1: Practice
First things first: If you've never applied false eyelashes, it's a good idea to practice a few times with a cheaper pair until you get the feel for it. It's not hard, but it can be tricky at first. If you know you're going to want to wear false eyelashes on a big night out next week, pick up a few inexpensive pairs to play around with the week prior so you'll know exactly what you're doing on the big night.
Lash lesson #2: Measure
Since everyone's eyelids are slightly different, it's best to measure false eyelashes before applying.
Tilt your chin up and look down your nose in the mirror, but keep your eyes open.
Place the lash on your lid to ensure it's the exact length of your eyelid.
When you place the lashes on to measure them, don't squint your eyes because it could alter the measurement.
If the lash is too long, trim it to size. Make your cut where lashes are longest, usually the outer corner of the lash. Use the tip of your scissors to snip.
Lash lesson #3: Apply makeup
It's a good idea to put your makeup on prior to applying the false lashes. This can make the process easier and avoid any lash-related mishaps. If you try to put on makeup once the eyelashes are on, it could shift them and weaken the glue, making the application process more difficult.
Lash lesson #4: Apply the glue
Squeeze a dab of glue either onto the back of your hand or the lash case. Take a toothpick or the end of an eyeshadow brush and dip it into the glue. Run beads of glue along the band of the false lashes, enough to cover the length of the eyelashes but not coat them with too much glue. Practice will help you learn what the right amount of glue should be.
Lash lesson #5: Place eyelashes
Wait 10 to 20 seconds until the glue just begins to set. At this point the glue will be sticky and ready to hold the lashes. If you attempt to apply the lashes to the glue right away, they'll slide around and won't stick as well. Move the false lashes as close to your lash line as possible for a natural look. You can use tweezers to do this for added control. Wait with your eyes lowered (not closed) while the glue sets. Once the glue has set clear, you can use black powder to blend.
Lash lesson #6: Removal
To remove the eyelashes, begin at the outer corner and peel off towards the inner corner. You can use makeup remover to help you if you're having trouble.
Watch the tutorial
More makeup tips and trends
Running late? How to still look great
Beauty products that smell good enough to eat
7 Professional eye shadow tricks
Photo credit: Robert Wallace/ WENN.com