New Year's Eve beauty must-haves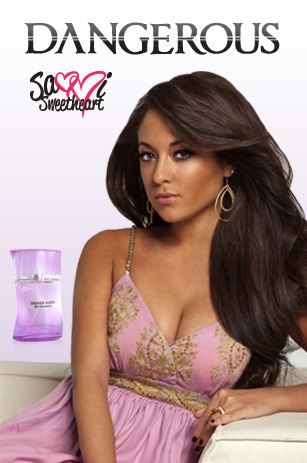 Sammi Sweetheart knows a thing or two about beauty. The MTV reality star and her roommates primp like no other on Jersey Shore and she also has her own perfume, Dangerous. Naturally, we were dying to get inside Sammi's head and find out some of her beauty secrets.
New Year's Eve is a night when most of us make a little extra effort to get beautiful, so what are Sammi's top five beauty products for this exciting night? That's easy. "For New Year's Eve, you can't leave the house without a good bronzer and lip gloss," Sammi says. "You also need fake eyelashes so you look extra spectacular, you need to have a good hair straightener if you're going to wear your hair straight, and a good pair of shoes."
Any fave makeup brands? Sammi says she swears by Motives bronzer and lip gloss and adores Maybelline XXL Pro 24 HR Intense Mascara. One other product she can't live without? Her perfume! "My perfume is called Dangerous and it's my only product out there, so I'm extremely excited about it," Sammi says. "It pretty much represents me 100%." The light and airy fragrance is Sammi's first venture into the beauty retail world, and she says she's loving the experience!
Ringing in the New Year fashionably
One of the things that makes New Year's Eve so much fun is the celebratory aspect. What woman doesn't love getting all dolled up and looking her best to close out the end of the year? Sammi, who always loves looking her best, says that bold, get-noticed looks are the perfect way to ring in the New Year: "I think if you wear something sparkly and fun, you can definitely pull it off on New Year's. That's the day to wear stuff that's bright and sparkly and vibrant."
Whether you celebrate 2011 in a sequined mini or a bold colored maxi, the most important part of dressing for New Year's Eve, Sammi says, is to feel good: "I think if you look good and you feel good, you're going to bring in the New Year in a great way, and I think that if you're dressed hot, you're going to feel hot."
Here's to a beautiful 2012
Like many of us, Sammi's looking forward to everything that the New Year has to offer. And this year, she's got one hairy beauty resolution she'd like to keep. Though she's known for her sexy straight locks, Sammi says she'd like to give her hair a bit of a break this year and not straighten it as much. Another one of her beauty goals for 2012? Testing out different hairstyles! Sounds like a few resolutions we could all try out!
After she rings in the New Year, Sammi plans to continue working on a men's cologne and is excited for the Jan. 5 premiere of Jersey Shore's fifth season. 2012 is going to be a pretty busy and beautiful year for the star: "Keep your eyes open because you'll see more of me in 2012!"
More Sammi
Sammi Giancola's hairstyles
Sammi Sweetheart launching jewelry line
6 Fashionable VMA red carpet looks for less