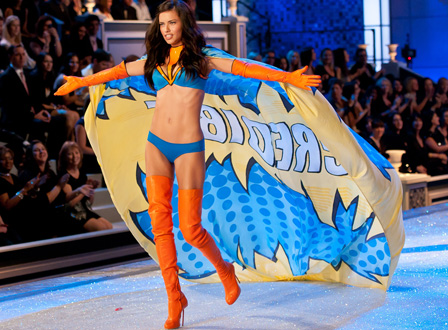 It's that time of year again… the Victoria's Secret Fashion Show is airing tonight! We got a sneak peek at some of the fantastic fashions that you can expect to see tonight and what kind of a friend would we be if we kept them to ourselves?
Victoria's Secret Fashion Show preview
Now this is a handsome couple! Adam Levine of Maroon 5 (below, to the left) snuck a kiss from his girlfriend Anne Vyalitsina during his performance at the fashion show. Such a sexy performance!
Bombshell Adriana Lima looks like something out of a superhero comic book in this sexy ensemble. Forget the dorky capes your little brother used to wear ladies, this woman means business in her sensual accessory.
Behind the scenes of the Victoria's Secret design studio
Ever wonder how the gorgeous Victoria's Secret Fashion Show costumes are created? Swarovski Elements crystals play a big part in the creation. Check out how these masterpieces are crafted.
More celebrity style
Chic work attire lessons from Pippa Middleton
Top 5 stylish celebrity offspring
Spotted: Hilary Duff rocks a fashionable, functional HoodieBuddie
Photo credits: C. Smith / WENN.com, PNP / WENN.com