Get Those Credit Cards Ready!
The wait is over! Check out this sneak peek of the line everyone is waiting for!
Designer capsules at stores like H&M, Target and Kohl's seem to be all the rage these days, and we hope it stays that way. After an insanely successful Lanvin collection flew out of stores like mad last winter, H&M is back with a new, exciting designer collection. The designer? Versace!! Yep, ladies, we're as excited as you are!
The 82-piece Versace for H&M collection — which comes out Nov. 17 and ranges in price from $20-$300 — features a wide array of women's and men's clothing, accessories and homeware pieces, and we got a sneak peek at the colorful glamour. Feast your eyes on these eight pieces of fashion eye candy!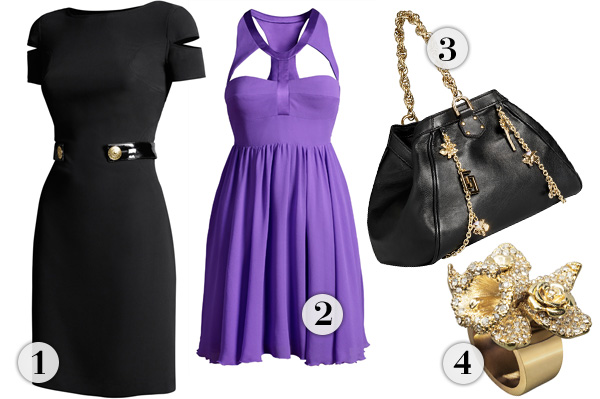 Black silk dress, $149
When we first saw this dress, we fell pretty hard for its sexy silhouette and buckle details at the waist. And then when we found out it was made of silk, our love only grew deeper. We're especially digging the sexy cutouts on the sleeves and think the beauty is definitely in the details of this little LBD.
Purple silk dress, $149
Another beautiful dress in the Versace collection, this silk number is both sexy and sweet. We love the flowing bottom and the intricate cutout detail near the bust, but what we love most about this little baby is the pretty purple color.
Black purse, $199
Every woman should have a black bag in her wardrobe and we're really tempted to add this one to our collection. Between the gold chain detail and the shiny charms, we've totally fallen for this purse.
Gold ring, $19.95
Talk about a statement ring! This elaborate accessory isn't only beautiful, it's also dirt cheap. At $19.95, we're willing to splurge on this little baby.
Up next: More Versace for H&M >>