Treating Acne On
Sensitive Skin
How can you fight acne blemishes without irritating your sensitive skin? Skin care experts weigh in on the best tips and treatments for fighting acne without being a bully to your sensitive skin.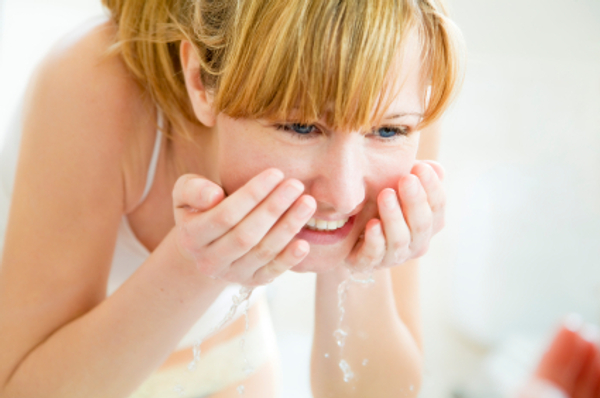 Is it possible to get tough on acne without roughing up sensitive skin? Skin experts say yes -- as long as you take the right approach specific to your skin care needs.
"Having both sensitive and acne-prone skin can be a big challenge for most who are trying to find solutions," says Cecilia Wong, founder of NYC-based Cecilia Wong Skincare. "One reason is because most skin care ingredients used to treat acne contain benzoyl peroxide and salicylic acid. These two ingredients can seriously inflame and irritate sensitive skin."
So, what can you do?
Use a gentle cleanser to remove oil
It's important to wash your face each night to remove the surface oil and make up that can contribute to acne, but you don't want a cleanser that strips your skin of all its moisture.
"If the skin is too dry it will actually produce more oil to further complicate acne," says Machelle Burgess, CRNP. Instead, look for a gentle cleanser that will remove surface oils and makeup without stripping and disrupting your natural pH, such as Cetaphil Daily Facial cleanser.
Use a new washcloth each day
Licensed esthetician Summer Gray says to cleanse your face with a soft, gentle washcloth made of lightweight terry cloth or soft cotton flannel. "It's tempting to want to reuse your washcloth for several washes, but the best way to avoid adding unwanted bacteria to your skin is to start with a clean cloth every time you wash," she says.
What about exfoliation?
Avoid harsh scrubs, says Wong. "No exfoliation! Scrubbing the skin will disrupt acne and spread bacteria, resulting in more acne forming, increased inflammation and redness," she says.
Dr. Cheryl Karcher, a board certified dermatologist and the official dermatologist for NBC and the Miss Universe Organization, agrees that using harsh exfoliants can irritate acne-prone skin. "The main goal for sensitive, acne-prone skin is to keep the skin barrier in tact," she says. "Most people with acne think they should exfoliate or scrub a lot but you MUST NOT."
Topical solutions and moisturizers
Lightweight oil-free moisturizers will keep your sensitive skin hydrated and balanced, without breaking you out. If you are using Retin-A or retinoids, make sure you are using a moisturizer with SPF to protect your skin.
Topical solutions like Retin-A are effective at treating acne, but can irritate those with sensitive skin. If your doctor prescribes these type of products, make sure it is the lowest dose so as not to irritate your sensitive skin.
"[You] may even need to skip two days between applications, gradually increasing the days the treatment is applied," says Burgess.
In addition to daily use of sunblock, facial plastic surgeon Dr. Houtan Chaboki says the timing of applying your topical treatments can make a difference in the sensitivity of your skin. He says to reduce skin irritation, "apply medication at night after washing the skin and allow skin to dry before [applying] skin care products."
For a do-it-yourself treatment, Wong offers this all-natural skincare regime for sensitive, acne-prone skin. "Mix a few drops of lavender oil in a bowl of water, soak a washcloth and wash your skin with it. Lavender not only soothes and heals sensitive skin, but it's great for calming acne. It's anti-bacterial, antiseptic and has a decongestant effect."
Avoid pore clogging ingredents
Skincare products that contain Isopropyl Palmitate, Laureth-4, Octyl Stearate and sodium lauryl sulfate can clog pores and cause acne. Jane Dudik, licensed esthetician and owner of The Acne Treatment Center in Vancouver, WA says to always read the labels and steer clear of products containing these pore cloggers and irritants to sensitive skin.
High-tech treatments
New high-tech treatments using light therapy are gentle enough for sensitive skin and have a superb track record of fighting acne. Wong recommends LED Light Therapy facials for its ability to heal skin tissue, calm inflammation and redness.
"It's great for someone who has acne, as the treatment kills bacteria and calms the inflammation from acne," she says. "I recommend a facial once a week for six weeks."
Finally, your diet can have a big effect on your sensitive, acne-prone skin."Sugar is not a direct cause of acne, but for some, items like sugar, caffeine, and complex carbs can trigger inflammation in the body," says Gray.
MORE TIPS FOR SENSITIVE SKIN
Top 10 Sensitive skin don'ts
Skin care tips for sensitive, aging skin
Best spa facials for sensitive skin