Sally Hansen's Limited Edition Halloween nail collection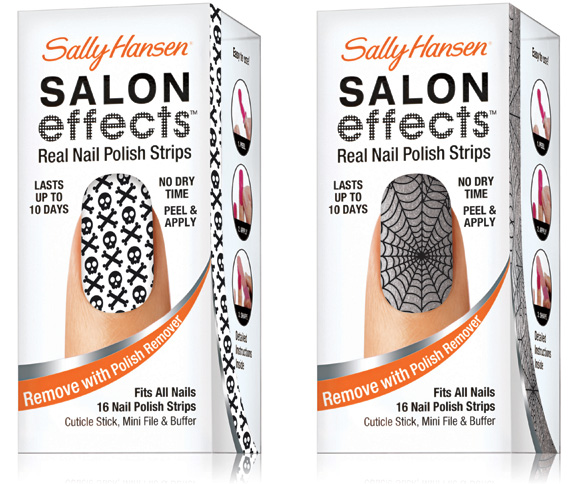 Sally Hansen has come out with a new holiday-inspired mini-collection that's sure to appeal to festive fashionistas.
Sally Hansen stayed away from Halloween nail clichés (like blood-drenched finger tips) and created nail appliqués that are simple and graphic. The nail design collection includes the following shades: How Corny, Batty For You, Patch-O-Lanterns, Numbskull and Spun For You.
Patch-O-Lanterns features illuminated-looking pumpkin faces in the traditional orange and black colors while Batty For You plays up a vibrant purple that could be straight from the set of a haunted house. Spun for You and Numbskull are more understated and give off a creepily seductive charm.
Sally Hansen's Halloween Salon Effects Real Nail Polish Strips are easy to apply and remove, so you'll have time to try out all five nail designs before Halloween night. The collection is available now and will only be sold for a limited time at drug and retail stores such as Target, CVS and ULTA for $10 each.
Dashing Diva DesignFX nail appliques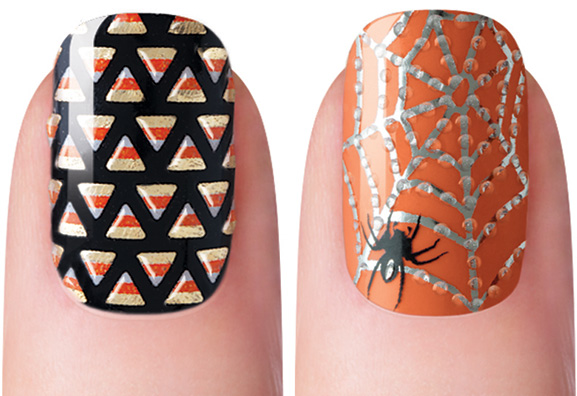 Dashing Diva has also come out with a limited edition set of three Halloween nail designs! Made up of three different spooky-chic prints and colors, the collection can be worn throughout the Halloween season as a fun addition to your wardrobe or on Halloween night to flawlessly finish off your costume.
Their Halloween Treats Collection includes: ColorFX Bete Noir, a deep haunting black, Enchanted Spice, a black background adorned with colorful candy corns, and Model Webizen, an orange backdrop with a silver spider web and tiny black spider dangling in the corner.
A DesignFX salon manicure will last up to a week on natural nails, and up to two weeks when paired with a gel overlay like Dashing Diva Gelife. The gel overlay adds a super high-gloss shine with an embedded dimensional finish. It also can be adapted for nails or for toes!
Dashing Diva DesignFX Halloween appliqués are available at participating Dashing Diva nail spas and salons nationwide. Treatments for DesignFX start at around $35 and up for natural nails and approximately $55 and up with a Gelife overlay. For more information, please visit designfx.dashingdivapro.com.
Up next: Halloween nail polish designs >>