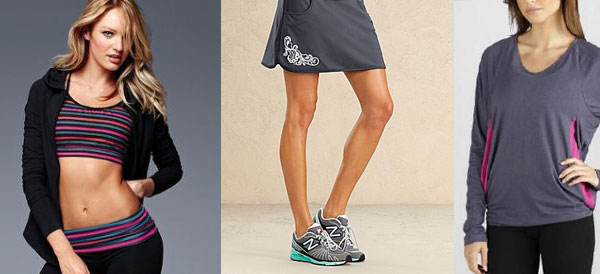 Fit and fabulous
Sometimes mustering up the energy to hit the gym can be hard enough, let alone having to look chic while doing it. Lucky for you, we've taken care of all that annoying, preliminary guesswork that
goes into getting gym ready. So if you're tired of your boring old fitness gear, check out these three ways to sport workout wear in and outside of the studio.
The look
The first step to looking the part is making sure you know all the essentials that make up this trend.
1
Make a bold, bright statement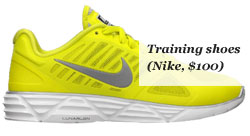 Other than your hot boot camp instructor and that cute guy you've been eyeing by the weights, some days there aren't too many things that get you up, out of bed and ready to hit the ground running. That's where your workout wear intervenes. Put the excitement back into staying in shape with bold, bright gym wear that's fashion forward, functional and affordable. We're totally crushing on these rad, neon yellow Lunar Sweet Victory+ 2 women's training shoes, $100, by Nike. Featuring a super durable design and an ultra flexible, lightweight fit, we know we'd bust our butts to get the chance to work out in these one day.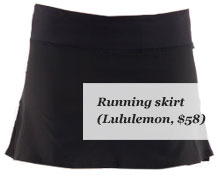 The worst part about shopping for new workout clothes is the lack of girly options to choose from. I mean really — who wants to look like a dude while sweating buckets on the treadmill? Not us, that's for sure. We like to get our fitness on in this trendy feminine running skirt, $58, from Lululemon. With a smooth, wide waistband and three storage pockets, you can wear this baby to the gym or even grocery shopping!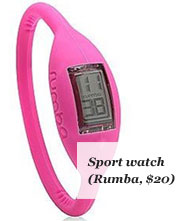 Accessories are the best way to dress up any outfit, even your gym garb! We recently stumbled upon this chic cotton candy pink sport watch, $20, by Rumba and fell in love immediately. Not only is it lightweight, stylish and completely water resistant, but the screen even lights up so you can tell time in the dark. Perfect for a night jog around the block or timing yourself holding your breath under water.
more sporty style
6 Ways to accesssorize the sporty look
PHOTOS: Check out the top fitness flirty looks
PHOTOS: See which celebs are wearing the sporty look