Not Your Average Fashion Awards
With the 2011 VMAs fast approaching, our anticipation for what fashions the red carpet will bring is bubbling overboard. We're getting our fashion fix by looking back at some interesting style inspirations over the years. Join us, please.
(page 3 of 4)
Best ice princess ensembles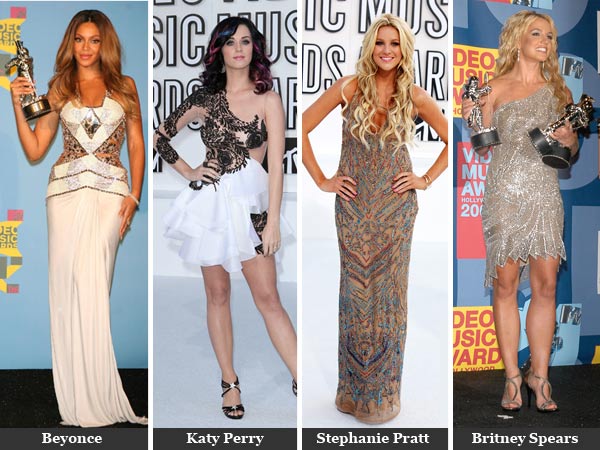 Beyonce
The 2006 VMAs had good things in store for Beyonce. Or rather, she had good things in store for the VMAs. In return for her honorary moonman, she dazzled fans in a white gown that flaunted her hourglass figure with the perfection it deserves.
Katy Perry
Katy Perry breaks even on this fashion evaluation. The sheer top caught our attention, but the white skirt gives us a reason to look away. Had this skirt been a little longer with less ruffles, she might have pulled it off. As is, she might as well throw on some ice skates and go for the gold. On the upside, her neon highlights help her break even.
Stephanie Pratt
Spencer's better half appeared at last year's VMAs in a nude gown with bejeweled details and her reality TV co-stars, Lo and Audrina, were also present in glitter dresses. Tabloids may love to hate them, but we love to love their fashionable ways.
Britney Spears
After all these years and countless mistakes, Britney still seems to hold her own when it comes to taking home the the moonmen. Her fashion failures have been a prime focus of the tabloids in past years, however, she managed to pull it together at the 2008 VMAs and walk the carpet in a dazzling one-shoulder dress.
Images courtesy Wenn/PNP/FayesVision/Nikki Nelson/Jody Cortes
Battle of the badasses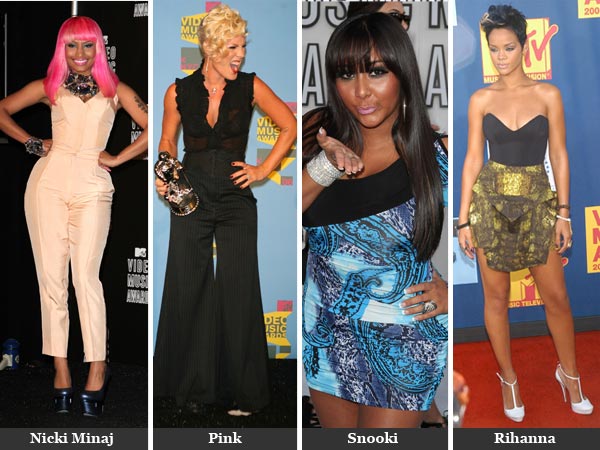 Nicki Minaj
As a recent addition to the celebrities with style that fans are falling for, Nicki Minaj is not afraid to experiment with color. Sure, pink hair is an outrageous idea, but you can't help but wish you could pull it off.
Pink
Pink is the perfect celeb to pull menswear for women (also, the first celeb to sport the neon hair trends that seem to be back, might we add). This wide leg pant and sheer blouse were a match made in heaven for her at the 2006 VMAs. She tends to clean up nice for the VMAs. What do you think she'll wear this year?
Snooki
Known mostly for her sweats and slippers, she's no stranger to a slim fitting dress like this either. Viewers watch every week as Snooki takes on a new adventure on Jersey Shore, whether it's a bar fight or cursing like a sailor. But does she have a knack for fashion? We think not, but feel free to argue the opposite.
Rihanna
As one of the first pop sensations to rebel against long, blonde locks, Rihanna is not afraid to show off her personal style and rockin' body. There's something mysterious about the singing sensation, and we love that she's always experimenting with new styles.
Images courtesy Wenn/FayesVision/PNP/Jody Cortes
Up Next: Cher goes Gaga and Beyonce looks the best in red >>
Images courtesy Wenn/FayesVision