Not Your Average Fashion Awards
With the 2011 VMAs fast approaching, our anticipation for what fashions the red carpet will bring is bubbling overboard. We're getting our fashion fix by looking back at some interesting style inspirations over the years. Join us, please.
(page 2 of 4)
Most likely going for the go-go girl look

Jennifer Lopez
J. Lo has been known to flaunt some saucy fashion ensembles over the years, but this wasn't her best go at it. So, while we usually love her glitz and glam with a little latina flavor, this doesn't strike us as a fashion success. We hope to see her walk the 2011 VMA carpet with some more style smarts.
Adrienne Bailon
Adrienne's Cheetah Girl days didn't always inspire sensible style in subsequent years. In fact, her black boots are the only item we'd like to salvage from this outfit and the rest can be left to Disney's next rising star. However, we're happy to report that this Cheetah Girl has snapped out of the wild and into the brain of a fashionista.
Images courtesy Wenn/PNP/Flashpoint
Most likely got dressed in a barn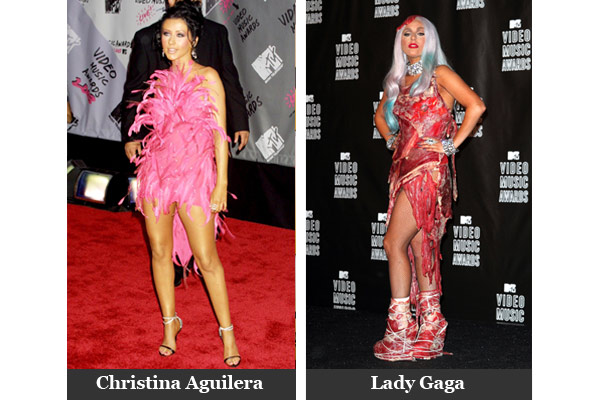 Christina Aguilera
Woah there, Christina. Though something is intriguing about this outfit, we can't say for sure that it's a positive. The only explanation we can come up with is Tweety flew the coop and got a new 'do.
Lady Gaga
Though the world has become immune to the outrageous stylings of Lady Gaga, she managed to send fans into shock again when she, quite literally, put on some meat.
Images Courtesy Wenn/FayesVision
Up Next: Fabulous or failure? 8 VMA looks that need your opinion >>