Look Like A Star
Inspired by the possibility of luxurious looking, affordable jewelry, we poked around for fashion jewelry lines that seem to populate red carpet events and candid paparazzi shots. Lia Sophia, Stella & Dot and RichRocks Jewelry were the final results of our jewel hunt and deeming these three jewelry lines the hot ticket to red carpet fashion was a must in the name of celebrity style.
(page 3 of 3)
Stella & Dot
Stella & Dot is commited to more than stellar jewelry -- they are completely committed to empowering women by giving them the opportunity for personal success. We love them for that, but we're really here to talk about how much we love their shiny designs.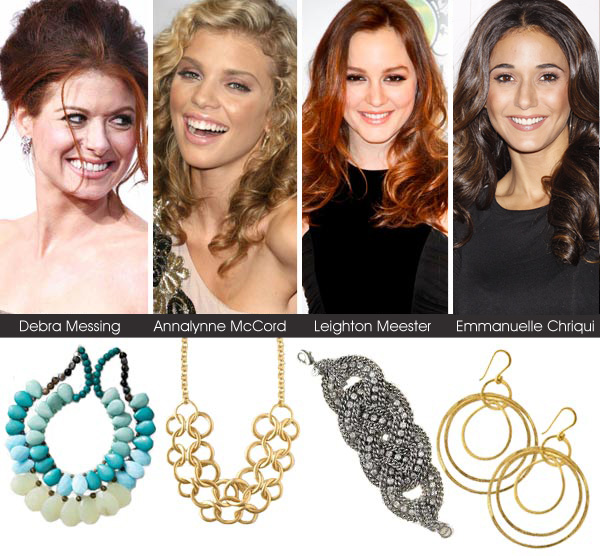 Debra Messing
We love red-headed beauty Debra Messing for embracing her fair skin and keeping it natural. The Delilah Necklace by Stella & Dot is the perfect example of a statement piece that will complement fair skin and prove its beauty can stand up to a tan any day.

Annalynne McCord
Annalynne McCord has been seen weaing the Vintage Link Necklace with the simplest of outfits -- jeans and a tee. Let this baby drape around the neckline of a bright colored t-shirt worn with a stylish pant. Your look will go from b-list to red carpet spectacular.

Leighton Meester
Blake Lively isn't the only gossip girl who rocks pieces from these jewelry collections. Leighton Meester wore the Petra Braided Bracelet in an episode the CW hit. Take it from New York's elite gals that indulging in fashion jewelry can make all the difference in your wardrobe.

Emmanuelle Chriqui
Entourage's Emmanuelle Chriqui was seen wearing the Gilda Hoop Earrings with a casual scarf and sweater outfit. Even a simple pair of earrings like this can give your wardrobe the boost it needs. (Photo credit: Wenn.com)
More celebrity style
4 Celebrity moms with enviable, we want it style
Giuliana Rancic's style watch
Fashion face-off: Mila Kunis vs. Emma Stone