Look Like A Star
Inspired by the possibility of luxurious looking, affordable jewelry, we poked around for fashion jewelry lines that seem to populate red carpet events and candid paparazzi shots. Lia Sophia, Stella & Dot and RichRocks Jewelry were the final results of our jewel hunt and deeming these three jewelry lines the hot ticket to red carpet fashion was a must in the name of celebrity style.
(page 2 of 3)
RichRocks
All you need to know about this fashionista jewelry line is that it was founded on the basic principle that every woman deserves stylish jewerly that doesn't cost them a fortune. Okay, so that's not all you need to know. Classic, contemporary and fashion forward are all terms RichRocks uses to define their line.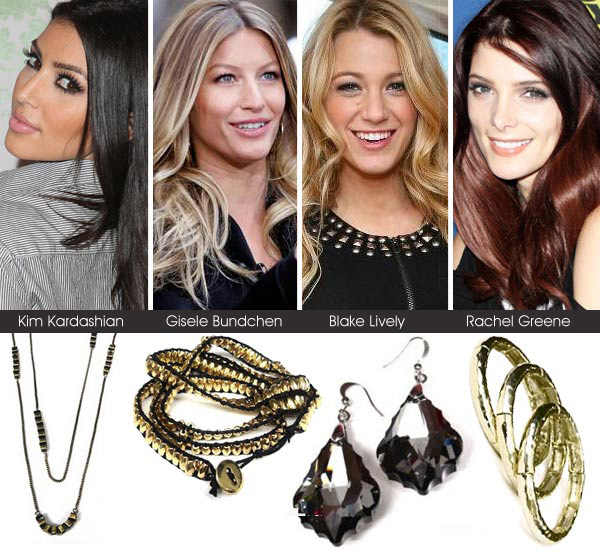 Kim Kardashian
Big sister to Kourtney who we spotted in Lia Sophia, Kim Kardashian is no stranger to fabulous jewelry either. Kim was caught wearing the Bi-Coastal Bronze Necklace which dressed up a simple skinny-jeans-and-tee outfit.

Gisele Bundchen
Supermodel Gisele Bundchen had no shame wearing the RichRocks Global Gold Bracelet off the runway. This shiny wardrobe addition wraps around the wrist numerous times to create a friendship bracelet feel with a little more pizazz.

Blake Lively
Practically-supermodel Blake Lively is a fan of the Oversized Hanging Smokey Dangles she wore in an episode of Gossip Girl. These earrings have an edgy vibe provided by their rigid texture but will glam up just about any outfit.

Rachel Greene
And then there's Rachel Greene, our beloved Twilight fashionista. She was seen wearing the Hammered Elastic Bracelets that put a rustic twist on traditional gold bangles.
Next page: Blake Lively's favorite pair of earrings and 3 more peices we love