Vintage Trends
You Can Wear Now
Fashion is important. It represents the culture, ideals and mood of a society. Plus, it's a whole lot of fun. Travel through the last six decades to learn about what was chic then, and how you can wear it now.
(page 4 of 6)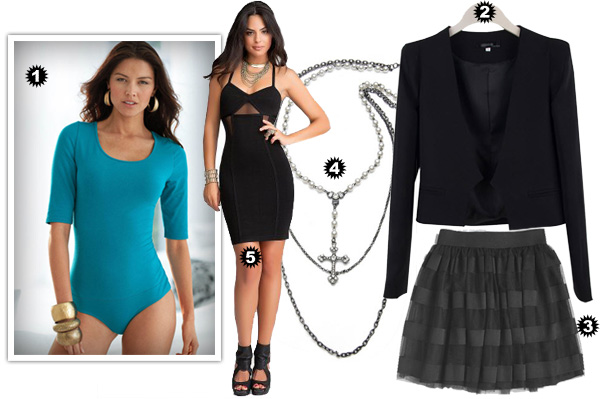 1980s
The eighties brought a huge dancewear trend to the streets. Leotards once worn in disco clubs in the seventies began to pop up in gyms and even as street wear. Leg warmers, neon colors and baggy sweatshirts were common companions to the leotard. Shoulder pads also had a devoted following thanks to big name television shows like Dynasty and a larger female presence in the workplace that called for "power dressing." Today, a subtle shoulder pad can add structure to a trendy jacket, and leotards (now commonly called bodysuits) can be a great option to wear with pencil skirts. Let's keep the leg warmers for the gym.
Chadwicks scoopneck bodysuit in Aegean, $12
Madonna
When the Like a Virgin music video came out in 1984, fashion changed forever. Women's fashion in general became more obviously sexual with lingerie worn during the day and tight, short dresses gracing many female frames. Short tulle skirts over leggings, large crosses, bra tops and rubber bracelets became huge trends for girls in the eighties, and still are now. Go with a fluffy skirt for the more girlie side of the look, or pair a sexy dress with layered necklaces and embrace the vamp.
Delia's tulle skirt, $40

Material Girl Three-tier Cross Pendant, $22
Up next: 1990s inspired fashion >>