Vintage Trends
You Can Wear Now
Fashion is important. It represents the culture, ideals and mood of a society. Plus, it's a whole lot of fun. Travel through the last six decades to learn about what was chic then, and how you can wear it now.
(page 3 of 6)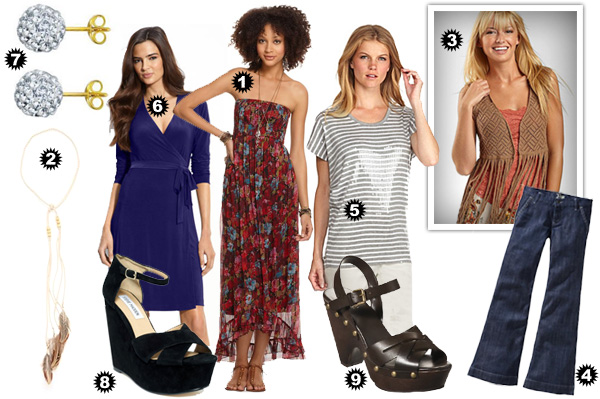 1970s
Hippie dippie
Following the hippie trend that began in the late sixties, the seventies began with peasant style blouses, long flowing skirts and lots and lots of tie dye. Recent years have seen another surge in this trend with the boho chic look. Light fabrics, earthy styles and flowing dresses might have made a comeback, but there is definitely an overall sense of cleanliness the original hippie trend lacked. Today this look really makes an impact when you layer on the pieces. Go with slim silhouettes so you don't end up looking bulky, and try adding a few feathers for extra flair.
American Rag Printed Ruffle Chiffon Maxi, $54

Urban Outfitters Braided Feather and Bead Headwrap, $19
Saturday Night Fever
The hippie look soon faded to the disco craze. Tons of popular styles today emerged during this decade, including the wrap dress first made by Diane von Furstenberg in 1972. Bellbottom jeans, crop tops and anything shiny or sparkly were big hits as well. These styles are so mainstream now that you can pretty much get away with wearing them all the time. We like a current combination of seventies sensibility paired with modern lines. Try tucking a classically cut shirt into high-waist bellbottoms or put a sparkly top under a blazer. Feeling too nervous to wear the full trend? Disco ball earrings add a perfect seventies touch.
Platform shoes
Perhaps the single most memorable trend during this time, platforms were worn by both women and men. We see few men heading out with 3-inch heels on nowadays, but women's platforms are getting higher and higher. You can never have too much of a heel, but make sure you can walk comfortably in whatever height you choose. Falling on your face is never cute.
Steve Madden Winery Wedge sandals, $89

Mossimo Supply Co. Wilette Nailhead heeled sandals in Chocolate, $25
Up next: 1980s inspired fashion >>