Copy Her
Best Looks
We've seen her grow from the tiny 10-year-old Hermione on the big screen to a genuine fashion icon in real life. For years, Emma Watson has been wowing us with her edgy, but always classy, starlet style. Favoring short dresses, solid colors and bold accessories, she constantly steals the paparazzi's attention -- and our hearts. Although Watson can usually be spotted wearing the high-end brands only celebrities can afford, we've found less expensive substitutes for some of our favorite fashion moments.
(page 5 of 5)
Airport chic
We wished we looked this good heading to the airport. Once again, Watson proves that you don't have to be elaborate to look glamorous. Comfortable clothes look fashion forward in shades of gray and black and a studded bag adds a little punch.
When looking for comfort and style, go for form-fitting layers. You won't get swallowed in a giant sweatshirt, but you'll still be able to regulate your temperature for different climates and those darn airplane fans.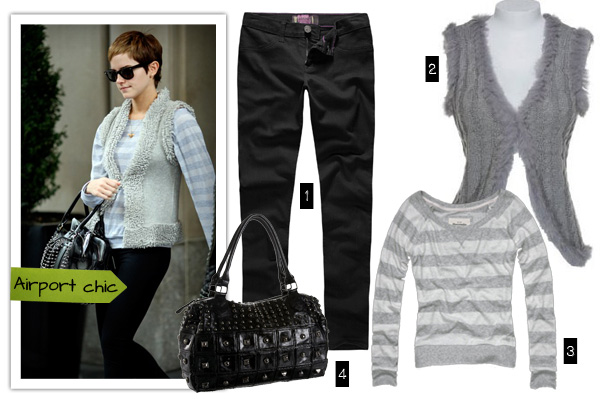 Photo credit:  WENN.com
Steal the look
Jeggings
Yes, they might be a tad on the questionable side, but nothing beats comfort when traveling and a black color makes these cotton pants look like real denim. Choose a pair with back pockets and seams to keep with the jean rather than the legging feel.
1. RSQ Miami Women's Denim Leggings in over dye black ($40, Tilly's)
Not your grandpa's sweater vest
Cable knit vests are not only reserved for office nerds, little boys and lovable grandparents. A soft fabric, chunky knit and open front lend both warmth and style.
2. Romeo and Juliet Couture Cable Knit Vest with fur trim ($15, Amazon)
Striped tee
Depending on your travel destination, a short sleeve or long sleeve horizontally striped shirt both work just a well for this look. Look for one with medium sized stripes, a soft color and a slightly relaxed fit to look cool without trying.
3. Abercrombie Alana in Grey Stripe ($38, Abercrombie)
Studded satchel
What better way to carry your in-flight necessities then in an edgy bag? Studs are in right now so you'll be right on top of the trends, and the shine acts as your substitute jewelry.
4. High Fashion 5754 Studded Satchel ($78, Endless.com)


More on Emma Watson
Emma Watson's London premiere look
Emma Watson's dating woes
Emma Watson got love advice from Daniel Radcliffe