Copy Her
Best Looks
We've seen her grow from the tiny 10-year-old Hermione on the big screen to a genuine fashion icon in real life. For years, Emma Watson has been wowing us with her edgy, but always classy, starlet style. Favoring short dresses, solid colors and bold accessories, she constantly steals the paparazzi's attention -- and our hearts. Although Watson can usually be spotted wearing the high-end brands only celebrities can afford, we've found less expensive substitutes for some of our favorite fashion moments.
(page 4 of 5)
Beautiful blue
At the 2008 LA premiere of the cartoon movie The Tale of Despereaux she wore a partially sheer dress and got away with it. It's hard to picture any other actress wearing a similar outfit to a children's movie premiere and looking as appropriate for the event, which is a true testament to Watson's fashion prowess.
Sheer accents to dresses can be a great way to cover up without looking prudish or getting too hot during the warmer months. Remember that sheer embellishment at the neck of the dress acts as the jewelry so keep any add-ons to your hands and ears.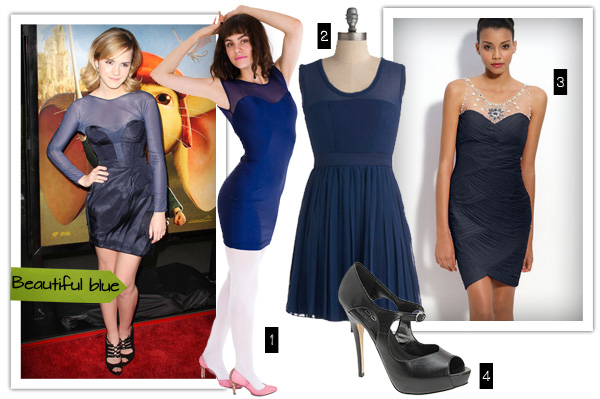 Photo credit: WENN/Fayes Vision
Steal the look
In the navy
A great sheer-sleeved dress is hard to come by and finding one in navy is an even greater challenge. Luckily, we did the work for you! Choose from the tight American Apparel style, the feminine Modcloth version or the glamorous Adrianna Papell shift.
1. American Apparel Sweetheart Two-Toned Mini Dress in Cobalt/Navy ($50)

2. Modcloth Blueberry Blintz Bliss Dress ($75)

3. Adrianna Papell Illusion Bodice Jersey Sheath Dress in Ink ($198, Nordstrom)
Elaborate peep-toe
A dramatic shoe ties the whole look together, so go for black. Extra details with straps or studs bring a simple style to the next level.
4. Adlo Nauss heel in black ($65)
Up next: Steal Emma Watson's airport chic look >>