Copy Her
Best Looks
We've seen her grow from the tiny 10-year-old Hermione on the big screen to a genuine fashion icon in real life. For years, Emma Watson has been wowing us with her edgy, but always classy, starlet style. Favoring short dresses, solid colors and bold accessories, she constantly steals the paparazzi's attention -- and our hearts. Although Watson can usually be spotted wearing the high-end brands only celebrities can afford, we've found less expensive substitutes for some of our favorite fashion moments.
(page 2 of 5)
Nighttime lace
Watson's sexy look for the Harry Potter and the Deathly Hallows Part 1 premiere in New York City might be her most famous outfit yet. The masses were shocked and enthralled by the sheer lace, high heels and fun ostrich feather skirt. Watson's overall sense of grace and gamine beauty make a look like this seem effortless.
When wearing see through, it is important to keep undergarments simple (and don't forget to wear them!). An elaborately embroidered or brightly colored bra would completely distract from your outfit. Watson's plain black choice is a perfect example of what to wear.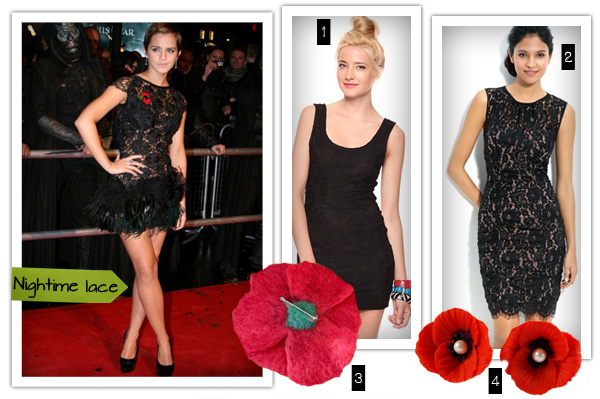 Photo credit: Ivan Nikolov/WENN.com
Steal the look
Black lace mini
The LBD might be a common staple in closests everywhere, but few own the more original little black lace dress. Whether you choose a sheer overlay over a nude sheath or a body hugging tank version, this style is sure to turn heads.
1. Forever 21 Fitted Lace Dress ($20)

2. Eliza J Ruched Lace Sheath Dress ($148, Nordstrom)
Pop of color
The red pin lending that all-important pop to Watson's outfit actually has an important message. Poppy pins have become symbols of Remembrance Day, a holiday honoring war veterans. Official pins are available at The Royal British Legion website, but Americans might want to try copying the look with poppy earrings and handmade brooches.
3. Large red poppy brooch ($27, Etsy)

4. Stranded Treasure poppy stud earrings ($16-$18)
Up next: Steal Emma Watson's festive casual wear look >>