Swimsuits That Aren't A Bust
They're either too big or too small. Yes, we're talking bust sizes. A recent poll in ShopSmart Magazine revealed that 42 percent of women struggle to find a suit that supports their curves. 31 percent of women said that they had trouble finding a suit with enough coverage up top. What does this tell us? Flattering our busts can be, well, a bust when it comes to swimsuit shopping. We scoped out some swimwear that will match up to your body type, keeping your bust happy and striking all the summer days long.
(page 2 of 2)
Bathing suits for small busts
It's no secret that every girl isn't as "blessed" with a volumtuous upper half, but that doesn't mean you can't flaunt what you have by creating the appearance of a bigger bust. By choosing the right suit for you body shape, you'll have no problem maximizing your curves -- Panache's Atlantis swimwear line is designed to do just that by giving an extra boost to your bust.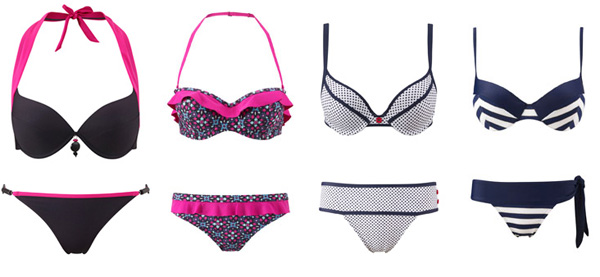 "Amy" halter bikini ($42 for hatler top, $24 for bikini bottom)
"Fleur" convertible bikini ($42 for bikini top, $24 for bikini bottom)
"Katie" bikni ($41 for bikini top, $24 for bottoms)
"Polly" push-up bikini ($42 for bikini top, $24 for bikini bottom) 
Tip: This suit gives you an extra bust size
More Swimwear trends