Out On The Town
When we set out to discover what people are wearing out on the town this season, we found our share of eye-catching prints and colors. These five ladies took a few minutes to tell us about their personal styles and where they like to shop.
(page 4 of 5)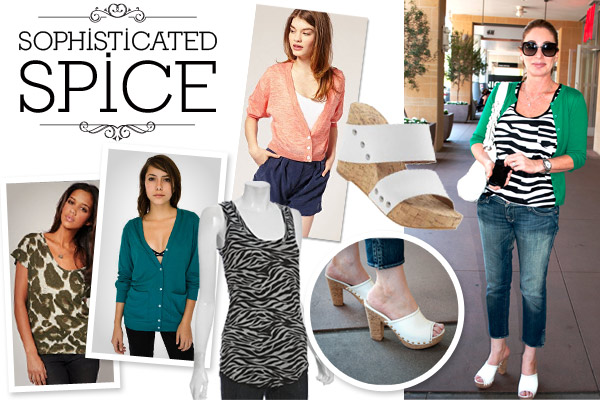 4. Meet Lilly & her trendy pairings
Lilly gave us a great reason to love animal print, pairing a zebra print top with a bright green cardigan for a look with eye-catching contrast. Her favorite store was Nordstrom and when asked how she would describe her style, she simply said, "I love everything." In this look she models her everything-style by pairing prints with solids, so we scoped out some similar wardrobe items to help you create Lilly's lively style.
Color-coated cardigans
Keeping up with Lilly is easy with this evergreen cardigan from American Apparel. If you're not a gal that looks good in green, never fear. It's easy to layer any solid cardigan over a fun printed top. For summer, try something with cropped sleeves and a loose fit, like our hand-picked pink style from ASOS.com.

Tasteful tanks
Animal print is a life saver when it comes to giving an outfit some extra spice, as long as you don't overdo it. Lilly used her zebra print tastefully by contrasting it with a bold sweater. We found two styles that can easily be paired with a solid sweater or vest -- a zebra scoop neck tank and a linen animal print t-shirt by Kookai.


White wedges
These platform wedges by Lucky are a comfortable option for a work appropriate look. They'll also look great with a capris or shorts to give your outfit a summer vibe.

NEXT PAGE: Darlene demonstrates the hat trick >>