Out On The Town
When we set out to discover what people are wearing out on the town this season, we found our share of eye-catching prints and colors. These five ladies took a few minutes to tell us about their personal styles and where they like to shop.
(page 2 of 5)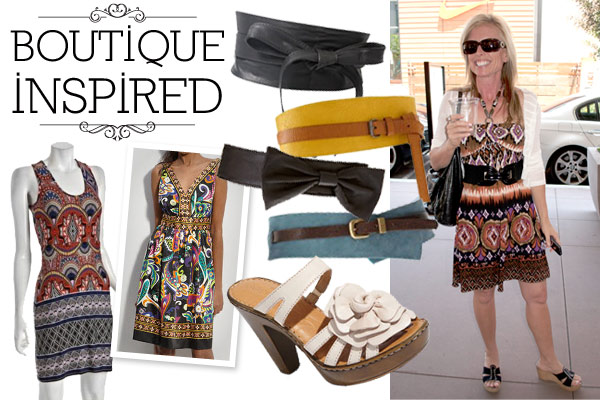 2. Meet Ann & her spicy tribal style
Ann's best accessory, besides her contagious smile, is her waist-cinching black belt. She breaks up the print of her adorable sundress while defining her waist and giving the piece some personality. She's right on track with this season's tribal-inspired trend that is popping up in everything from skirts and shirts to shoes and accessories. A light sweater is a smart choice for days when the air conditioning is really blasting indoors, and her platforms are low enough to walk in for hours. Ann said she shops for her "casual" style in small shops and at Nordstrom for their amazing shoe selection. For those looking for similar printed dresses, we found a few department store pieces that mimic her boutique look.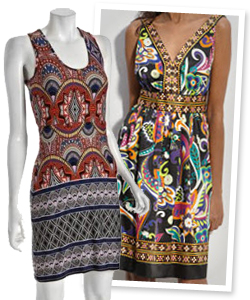 Prints that prowel
You can add a little extra sugar and spice to both of these dresses with a cute waistbelt or you can wear them solo to keep it simple.The sleeveless tank dress benefits from a light jersey fabric while the ECI Print charmeuse dress keeps it cool with bright colors that contrast the black trim.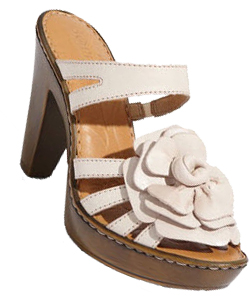 Flower powered feet
The Born flower sandal is not only a product of one of the most comfortable shoe soles on the market, it's sure to get you a few compliments while walking down the street too!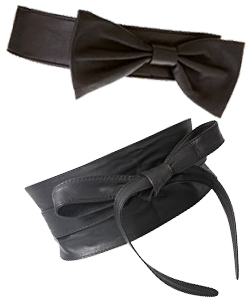 Little black bows
Both of these black waistbelts enjoy a feminine touch via bows and can offer any outfit an extra edge. The only question left is ASOS Leather obi-belt or Lowie big bow waistbelt?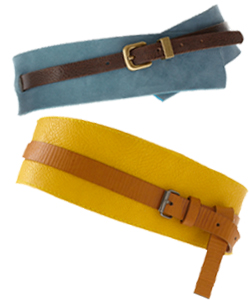 Yellow and blue, too
A colored waistbelt like the blue suede obi belt and the yellow wrap boyfriend belt are a softer alternative to black and when paired with one of our department store dress picks, the dress gets an instant style boost.

NEXT PAGE: Katie shows us the power of stand-out staples >>