Metallic
Summer Styles
There's something about metallics that make us crazy – in a good way. Sure, we love shiny things (they're as pretty as they are distracting), but it's more about the overall edgy look of metallic styles that has us scoping out gold, copper and silver-hued pieces this summer. Take a look at some of our latest gleaming finds.
(page 3 of 3)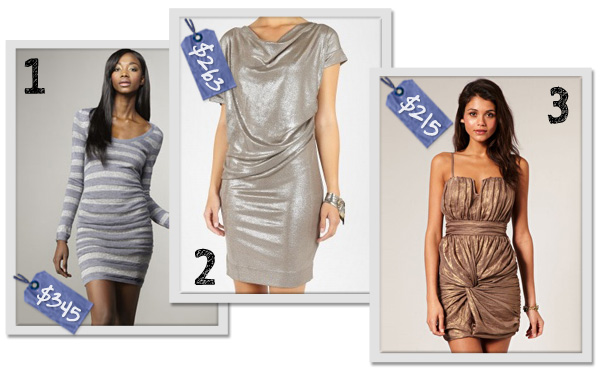 Metallic Dresses
Metallic frocks? We say why not? Go beyond basic black or any other classic color combo this summer and try a gold or silver style on for size. Here are a few of our recent favorites.
Sexy stripes
Look pulled together no matter where you go in this chic, all-season metallic striped dress (Neiman Marcus, $345). We love the wide scoop neck and subtle shimmer of the pretty, silver-hued style.
Silver sheen
Say yes to silver and look stunning in this Vivienne Westwood drape dress (My-wardrobe.com, $263) featuring an asymmetrical cut, side ruching and a longer angled front panel. Pair this glam look with sky high heels and be the belle of any summer social.
Beautiful bronze
Be the life of the party in this stunning bronze cocktail dress (Asos, $215) with adjustable ribbon straps, a sweetheart neckline and twisted knot detailing on the front. This is a dress to bust out when you want to make a statement and really get noticed.
More fashion & style
Hurray for sandal season
Far-out fashion
Color crush: Courting coral