Get Healthy Skin
Natural skin care products are safe and effective. Their natural ingredients quickly absorb into the skin, helping to nourish, protect and heal the skin with powerful antioxidants and anti-inflammatory properties. Read on to learn more about the benefits of natural skin care products.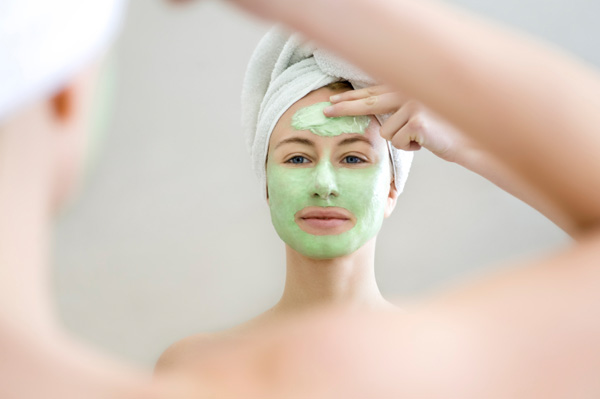 No toxic chemicals
One of the primary benefits of natural skin care products is they don't contain harmful ingredients such as synthetic dyes, fragrances and preservatives, and other toxic chemicals that are frequently used in traditional skin care products and cosmetics. Toxic compounds are quickly absorbed into the skin and remain in your body. Over long periods of use, these toxic accumulations can damage your skin and other organs in your body, causing disease and premature aging.
With natural products, the body uses the compounds to build healthy cells or simply breaks down and eliminates what it can't use. Unfortunately the toxins are assimilated into the body faster than they can be eliminated because the body doesn't recognize their components. As a rule, if you can't read the ingredients on the label, then don't put it in or on your body.
Try a natural face scrub for your skin >>
Rich in antioxidants
Many natural skin care products are rich in healthy antioxidants.
Antioxidants are vital because they destroy the free radicals that damage cells. Free radicals cause oxidation in your blood, and once that oxidation takes place, disease can result. Antioxidants promote the growth of healthy cells and protect these cells against premature aging. Research shows that antioxidants also support the body's immune system to help fight against existing diseases as well.
Contains healthy botanicals
Natural skin care products contain plant extracts and other botanical ingredients. Since plants are composed of the same vitamins, minerals, EFAs, enzymes and other components as you are, the body can easily recognize these plant-based ingredients as nutrients and use them as such. Harsh chemicals and synthetic ingredients aren't readily recognized and the body sees them as toxic, often resulting in health issues and allergic reactions.
Ideal for sensitive skin
Sensitive skin is more susceptible to allergic reactions and breakouts. Natural skin care products don't clog pores. They allow your skin to breathe and reduce the occurrence of blemishes and inflammation. These products are also generally hypo-allergenic by nature, therefore you'll be much less likely to have an allergic reaction with use of a natural product than you would with non-natural skin care cleansers, moisturizers and other products. Though you should keep in mind, if you have a known allergy to a specific fruit or vegetable, you obviously shouldn't use a product containing that ingredient.
Check out these skin care routines for sensitive skin >>
Gentle and effective
Milk is a natural cleanser, while honey and cocoa butter are rich moisturizers. Cucumber is perfect for toning skin, and walnuts and oats are natural exfoliants that promote cell regeneration. All of these natural ingredients and many others work gently to cleanse, nourish and protect your skin effectively and without harm. With regular use of natural skin care products, you'll have healthy, soft, radiant skin without the danger of harsh chemicals, dyes and preservatives.
DIY beauty
How to make body butter
More skin care tips
Natural beauty remedies
What to eat for healthy skin & hair
Pure and simple skin care recipes
More From SheKnows Explorer