Girly Summer Styles
Welcome to Pretty Little Things, where each week we bring you our picks for the prettiest little things online. If we love it, you'll be the first to know! This week we look at all things girly, from bows to ruffles to lace.
(page 2 of 3)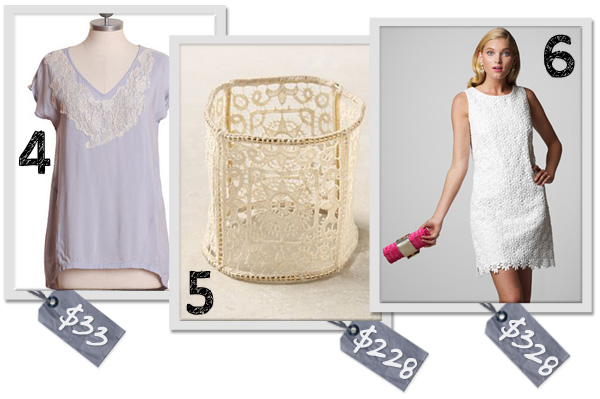 Lovely lace
Lace T-shirt
I love the simplicity of this low-key light blue T-shirt (Shopruche.com, $33) with pretty ivory lace detailing along the neckline and around the back. This look is perfect for adding a romantic vibe to something more casual or tucking into a high waisted skirt and pairing with T-strap heels.
Lace bangle
Lace jewelry was a revelation for me – as in I hadn't really given it much thought. And then I found THIS – a beautiful lace bangle (Anthropologie, $228) that screams romance. Girly without being too cutesy, this intricate piece features a lattice of buttercream needlework stretched across a brass frame.
Lace shift dress
I would never wear anything lace during fall or winter, but now that it has finally warmed up, I can't wait to sport this chic a-line shift dress (Lilly Pulitzer, $328) featuring all over, vintage-inspired lace. Cute yet sophisticated, I can easily take this look from the office to a backyard BBQ (and hope I don't get mustard on it!)
Up next: Bring on the bows >>