Our Fave
Summer Trends
Trends come and go – especially as we enter a new season. But every year there are a few style musts that drive us mad with desire. This summer we've decided we can't live without three trends in particular – tribal print skirts (so cute!), bright bags (love) and jelly accessories (so fabulously kitschy) and we've rounded up some picks for each. Check them out -- we dare you not to fall in love.
(page 3 of 3)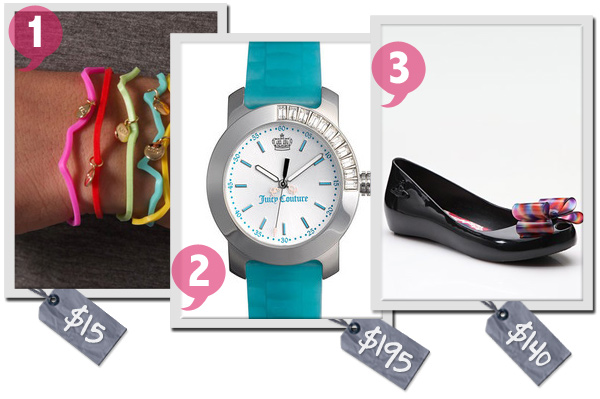 Jelly accessories
Seen on runways from Jil Sander to Marc Jacobs, jelly and plastic accessories are no longer a distant childhood memory. From shoes to bangles, jelly is back in a big way and our inner child couldn't be happier. Kitschy and cool, we've handpicked some fun and fashionable accessories for kids at heart.
Jelly bracelets
We love these colorful Marc Jacobs bracelets (Shopbop.com, $15) – a quick pick-me-up for any outfit. The set of five multi-colored bracelets each features a gold plated logo charm and when not in use (i.e. stretched to fit), they are in the shape of an apple with the letters spelling out Marc.
Jelly strap watch
If jelly bracelets aren't your thing, opt for something slightly more sophisticated, like this Juicy Couture jelly strap watch (Nordstrom, $195) in a lively shade of turquoise. We love the added touch of bling from Swarovski crystals embedded in the face.
Jelly flats
Definitely not the jelly shoes of your youth, these Vivienne Westwood (for Melissa) flats in basic black (Saks Fifth Avenue, $140) are both stylish and sophisticated, while maintaining the playful appeal of all things jelly. We're particularly enamored with the addition of the big plaid bow.
More summer style
6 Saucy swimwear trends
Summer trend: Jewel tones
Oversize accessories we love