Our Fave
Summer Trends
Trends come and go – especially as we enter a new season. But every year there are a few style musts that drive us mad with desire. This summer we've decided we can't live without three trends in particular – tribal print skirts (so cute!), bright bags (love) and jelly accessories (so fabulously kitschy) and we've rounded up some picks for each. Check them out -- we dare you not to fall in love.
(page 2 of 3)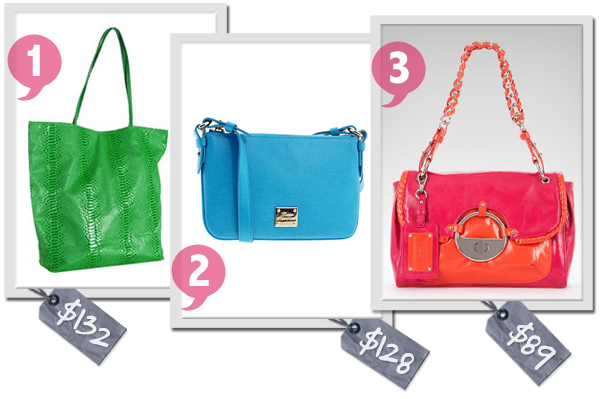 Bright bags
One of the best ways to add a pop of color to an outfit or spice up something neutral is with a bright bag – another one of summer's must-have trends. We can't resist a bold bag in a vibrant hue, so we've scoured the web for some of this season's best and brightest.
Tall tote
Carry everything you need for a day spent lounging by the pool or shopping for that perfect pair of summer sandals in this lime green snake print tote (Bluefly.com, $132). This piece also comes in bright blue but we're partial to the near-neon green.
Leather crossbody
We picked this compact Ralph Lauren crossbody bag (Zappos.com, $128) for its practical, take-anywhere size and its bold blue hue that has us dreaming of swimming pools and sparking turquoise water.
Bold color block
Get your daily dose of color – and then some with this candy-hued shoulder bag (Bebe, $89) in an electric combination of bright pink and orange that reminds us of two delicious scoops of strawberry and orange sherbet.
Up next: Jelly accessories >>