Yellow Summer
Style Staples
Having a bad day? Just try and stay grumpy while wearing something yellow. Probably the happiest hue around, yellow is bright, cheerful and perfect for summer. From soft pastels to get-noticed neon, we've picked out some of the best bright styles we could find. Read on and say yes to yellow!
(page 2 of 3)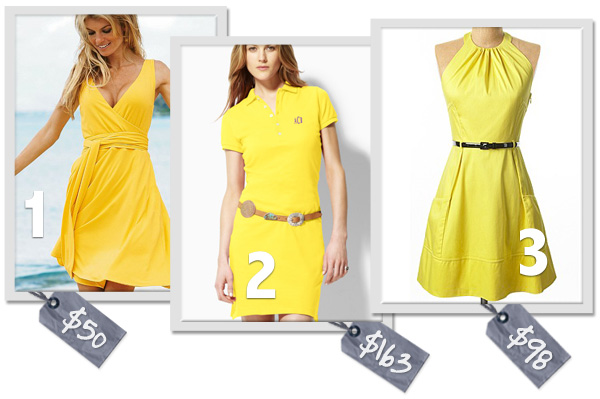 yellow Dresses
Nothing says summer like a sunny, yellow sundress. Fresh, flirty and flattering against a (faux) tan, we love the look of a breezy, bright dress.
Victoria's Secret, $50
Look smart and sexy in this flowy V-neck wrap dress in a bold shade of yellow. Keep things casual with flats or flip flops or take this look up a notch with wedge heels and some bling.
Ralph Lauren, $163
Pull off the preppy look in this bright yellow polo dress. We love the slim fit and timeless look of this summer style. Add a belt to change things up or create a different silhouette.
Jessica Simpson Collection, $98
Perfect for a summer soiree or patio cocktails, this fun and flirty frock features a halter top and a belted a-line skirt. We love the cheerful hue and figure-flattering style.
Up next: Sunny yellow shoes >>