Sexy Summer
Swimsuits
As swimsuit season inches ever closer, we want to make sure you look stunning as you soak up the sun (while wearing sunscreen, of course). While we patiently (or not-so-patiently) wait for the weather to warm up enough for a beach day we're biding our time searching for the hottest bathing suit trends of the season. Take a look at our picks for this season's swimwear must-haves.
(page 2 of 2)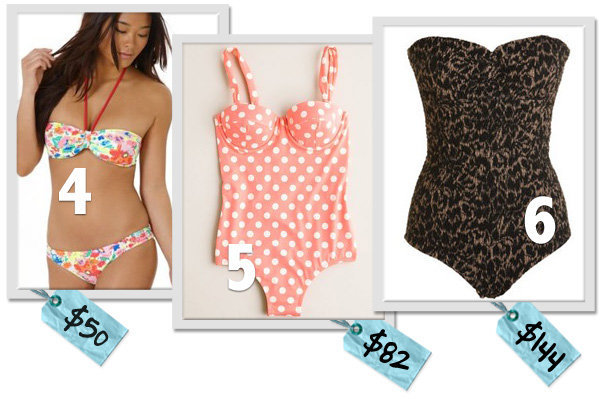 Floral
We've seen florals on everything from sundresses to clutch purses to shoes and now this pretty print has made its way to swimsuits. Flowers epitomize the warmth and carefree charm of summer – add them to swimwear and you have the perfect hot weather look for a day at the beach.
Our pick: Awash in watery florals, this cute bikini from AE.com is a colorful addition to your beach-going wardrobe. The top and bottoms are sold separately for $25 each, making this style a summer steal.
Polka dots
Pretty polka dots are a timeless print, but despite their classic appeal, some years they're more popular than others. This season, it's all about polka dot detail on swimwear creating a playful and youthful look on both bikinis and one-piece styles.
Our pick: Simple yet stylish this pink polka dotted design from J. Crew ($82) reminds us of old Hollywood glitz and glamour. Providing ample coverage but still sexy, we love the flattering sweetheart neckline.
Animal print
Another spring runway staple, animal print has made its way onto swimsuits for a dramatic poolside look. Tiger, leopard, zebra – all kinds of jungle-inspired styles are coming to a beach or pool near you.
Our pick: Strapless and sexy we love this Tori Praver animal-print one-piece ($144) from Barneys. Add oversize shades, a sheer sarong and peep-toe wedge sandals and you're ready for your poolside close-up.
More summer style
8 Great 1-piece swimsuits for less than $50
Are flatforms for you?
Warm weather beauty trends