Sandal-Worthy
Toenails, Fast!
If you need a quick self-care pick-me-up, give yourself a five-minute spa experience with an at-home pedicure. Not only will you feel good after the experience, your feet will look hot in all your spring sandals.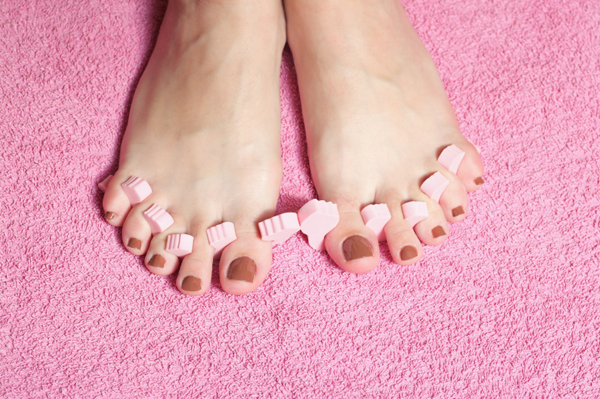 Gather your supplies
Put together a pedicure kit to help speed up the foot-care process the next time you want to chill out and beautify yourself. Make sure you include:
Bath salts in your favorite scent
Wash cloth
Exfoliating foot scrub
Pumice stone
Moisturizing body cream
Nail clippers
Nail polish remover
Cotton balls
Nail separators
Nail polish
Clear top coat
Razor
After gathering your supplies, place them in a large tub and store the entire kit in a handy location for your next spa day.
Step one: Soak and scrub
Fill the tub with warm water and drop in your bath salts. Soak your feet for a minute, then dry them off with a wash cloth. Apply your exfoliating foot scrub, really rubbing the scrub into your heels and any other areas susceptible to dry, hard skin. Place your feet back in the warm water and rinse off the foot scrub before drying your feet again. If you notice any particularly stubborn rough spots on your feet, use the pumice stone to scrub away as much of the rough skin as you can.
Step two: Moisturize
Rub your favorite moisturizer onto your feet, ankles and lower legs. Pay particular attention to your toes, using the lotion to soften up your cuticles. Finish off the process by lightly pressing back your toe nail cuticles with your thumbs.
Step three: Clean up
It's time to focus your attention on your toe nails. If you have any old nail polish remaining on your toes, use a cotton ball and nail polish remover to give your nails a clean sweep. After you've cleaned off your polish, follow it up by clipping your nails, evening out the length and shape as much as possible.
Step four: Polish
After you've cleaned up your nails, you can concentrate on beautifying your toes. Place the nail separators between your toes to help prevent smearing. Choose your favorite nail polish and evenly apply a single coat of color, trying to cover the entire nail in one to three swipes of the brush. If you notice you have extra time to spare, consider applying a second coat of color to help prevent the streaks that can occur from uneven application. Allow each nail's polish to dry for 60 seconds before following up the application with a sweep of clear top coat.
Bonus step
As gross as it sounds, some women grow hair on top of their toes. If you notice unsightly hair on your toes and you have an extra 30 seconds to spare, run a razor over the hairs to give your toes a nice, smooth look.
More nail tips and trends
How to make your pedicure last
3 Tips for a safer pedicure
Get your feet ready for sandal season
More From SheKnows Explorer