Get Perfect
Nails Fast!
Well-kept fingernails will help you look polished and pulled-together, but finding the time to schedule a manicure isn't always possible. When you want that polished look, but you only have a few minutes to spare, try this quick at-home five-minute manicure.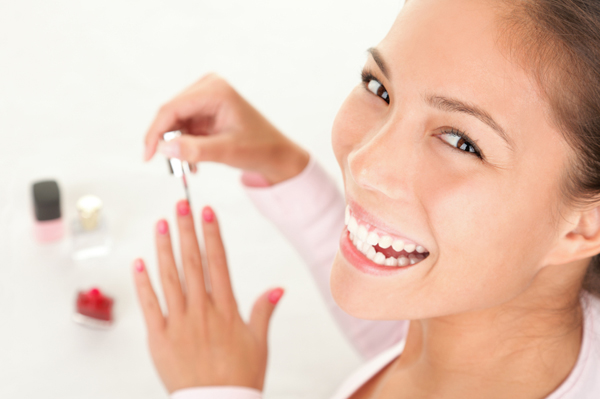 Before you start: Gather your supplies
To zip through your manicure at lightning speed, you need to make sure you have all of your supplies gathered and ready to go. Put together a quick manicure bag so that you have everything in one place. Make sure you include:
Nail clippers
Nail file
Cuticle remover
Cuticle stick
Paper towel
Base coat
Favorite nail colors
Clear top coat
Cuticle oil
After gathering your supplies, grab a small bowl and fill it with warm water.
Step one: Shape up your nails
Use your nail clippers to trim your nails to your desired shape and length. After trimming your nails, use your nail file to even out the tips, filing each side of the nail up and toward the center to help prevent your nails from chipping.
Step two: Soften up your cuticles
Dip your fingernails in warm water for 30 seconds. After removing your fingers from the water, use the paper towel to dry off your nails, leaving your cuticles moist. Apply the cuticle remover according to the directions on the bottle and lightly press back each cuticle with the tip of the cuticle stick. Be sure not to press too hard or to jab at your cuticle.
Step three: Apply the base
Quickly apply a base coat to your nails. You can either choose a clear base/top coat combo or a treatment coat that will help strengthen your nails. The base coat will help even out your nail surface, making your polish go on smoother.
Step four: It's time for color
To keep your manicure quick, apply a single coat of light-colored nail polish. The light color will help hide uneven applications. Allow 60 seconds for each coat to dry.
Step five: Top it off
After allowing your nail color to dry, apply a clear top coat over the nail color. The top coat will help seal your color and prevent chipping, enabling your manicure to last longer.
Bonus Step
If you manage to complete your manicure in less than five minutes, you can also apply cuticle oil to your cuticles to help keep them moisturized and healthy.
Beauty how-to
Pink and yellow French manicure
Learn how to create a pink and yellow French manicure in just 5 minutes!
More nail tips and trends
How to give yourself a French manicure
Paint your nails blue for spring
How to wear glitter nail polish
More From SheKnows Explorer